Please allow me to get up on the soapbox a little today. Above is the (scratched) visor from my Shark Vision R helmet. I have been looking for a new visor for it for some months and every lead that I have followed has been a dead-end. It seems that, even if the retailer lists them on their web site, when you actually enquire, they are out of stock. I've been told that the local distributor has them on back-order but cannot tell when (or if) they will arrive.
After finally running out of patience, I told my sad story on social media and was delighted when a Facebook friend from Darwin told me he had a brand new one and I could have it for a very reasonable price, plus postage. So my present dilemma is solved.
In the mean time I have bought a new Shark helmet which I really like and it, too, was at a very reasonable price. but, and you knew there would be a but, didn't you, the new helmet does NOT have a very valuable feature that my older Vision R has, even though it is a new model.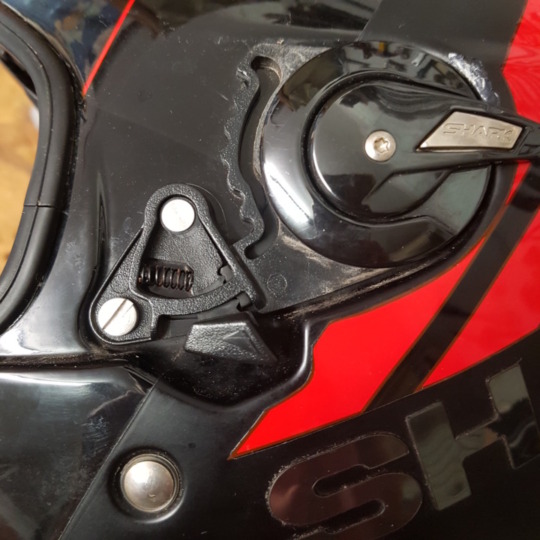 See this little lever? It is attached to a spring-loaded mechanism that is part of my Vision R. When the visor is completely closed, pushing this little lever forward in the direction of the arrow open the visor ever so slightly and allows some ventilation without adversely affecting the wind noise. As I have mentioned before, one of the reasons I bought the Shark is because it is an incredibly quiet helmet compared to any others that I have used. You would think that opening the visor, even slightly, would negate that but it doesn't. That's one of the reasons why I have been trying so hard to get a new visor for it. Thankfully that problem is now in the process of being solved.
Imagine my disappointment, then, when I bought the NEW Shark helmet to find that this feature has been deleted on the new Shark models. I mean, it's not as if it is an expensive addition, if it works this well, why wouldn't you include it on the specifications of the newer models? But it is not included and this whole thing smacks to me of excessive penny-pinching. This is why the title of my article today is Progress?
But this isn't just about helmets. The practice of Japanese manufacturers making changes that they claim to be improvements when they are actually retrograde is well-known and well-documented. There are a myriad of examples but one should suffice.
I'm a Honda man, you all know that, but, in this gig, I try to make it my habit to be as unbiased about brands and brand loyalties as I can. I mean, even if the latest Yamaha has mice in the air cleaner you're not going to hear it from me because bagging the opposition is counter-productive. Fact is that ALL manufacturers have a cupboard full of turkeys and whoever is without sin can cast the first stone. That's why you don't see any stones being cast. But our good friends at Suzuki have been responsible for more "howlers" than most when it comes to the issue of "progress".
You only have to look at any of the period documentaries concerning the life and career of the late Barry Sheene to see the constant frustration that riding for Suzuki was for him. Every season they would bring out a new model that was "better" than the one from the season before only to have Bazza tearing his hair out telling them it wasn't while their poker-faced engineers were telling him that it WAS.
And they didn't learn well for their mistakes, either. After winning the 500cc championship in 2000 for Suzuki, Kenny Roberts Jr would have been expecting that the bike Suzuki provided him for his title defence in 2001 would be an even better bike than the one he had ridden the year before. Instead, Roberts's defence of his title was one of the most disappointing in recent memory.
Honda will probably never live down the fiasco of the "upside-down" NSR500 of 1985 and, while Spencer went on to WIN the title that year, it was in spite of rather than because of the equipment that Honda wanted him to ride.
And it's not just bikes and racing bikes. Japanese car manufacturers have also made a meal of making improvements to existing models as well and not just a couple of times.
Quite why this is so I have no idea. But it seems like almost a given that, if you're told that something is an improvement over the previous model there is more than just a slight possibility that it will be anything but. It seems that the manufacturers understand the word "progress" in an entirely different way to the way the average consumer does. As a friend of mine was fond of saying, "They use the same words but they have a different dictionary."
I will be grateful to be able to get my Vision R back into commission. It's a great helmet and, thanks to my Facebook friend, I will be able to "progress" to a better helmet.