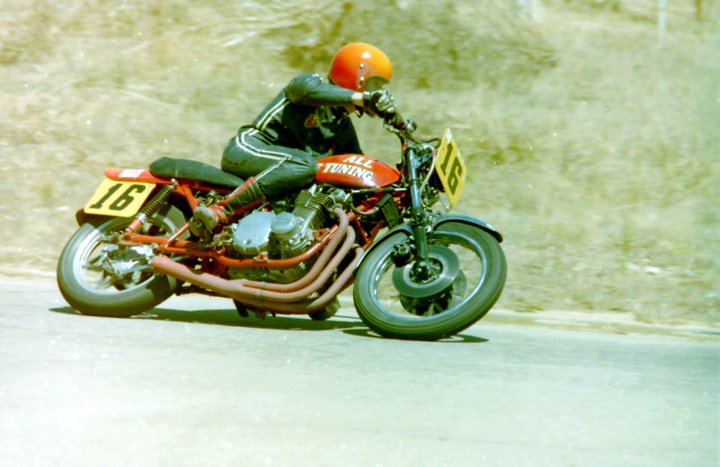 Australian motorcycling was rocked by the news yesterday that legendary motorcycle journalist and part-time classic bike racer, Ken Wootton, had passed away, aged just 57. Ken had been holidaying in central Europe and was apparently found dead in his hotel room in the Czech Republic. Ken had developed a real love of the former Eastern Bloc countries and travelled there whenever he could. It is said that he had been suffering chest pains for a few days before his death and a heart attack is suspected as the cause of death.
Tributes have been pouring in from all over Australian and the world as people try to come to grips with the fact that "The Woose" or "Wobbler" as he was also known, won't be around any more to regale all and sundry with tales of motorcycling derring-do. Ken, for many years the editor of Australian Motorcycling News and latterly Motorcycle Trader magazine was the doyen of motorcycling journalists in this country. It would be extremely unlikely that any journalist working in this country today would have not had his career at least in part shaped by the man with the terry towelling hat.
I met Ken on many occasions at race meetings and even worked for him on a freelance basis and I always found him to charming, witty, approachable and fun. In these days of "computerised" journalism, Ken was an original and, as such, is irreplaceable. A fount of knowledge and information, Ken was a legend and his passing has left a huge void in motorcycling in Australia. My photo (above) shows Ken in his early racing days, racing the All Bike Tuning Kawasaki 900 at Hume Weir in 1977. RIP, Woose, your like will not pass this way again.
In other news, Marco Melandri has signed a contract extension with Yamaha WSBK till the end of 2012. Randy de Puniet, duelling with Marco Simoncelli over the title of "2011's most prolific crasher" has been linked with a WSBK ride with Kawasaki next year signalling, perhaps that Chris Vermeulen's constant battle with injury may see his premature retirement at the end of the year. I certainly hope not, but the possibility is there. Chris will miss the upcoming Silverstone WSBK round due to continuing injury woes.
Jorge Martinez's experiment of putting Elena Rossell on the Moto2 bike earlier on this year was roundly criticised by most as a cynical PR stunt. If it was, it's about to happen again as news is in that the Spanish lady racer is due for another shot at it when the circus rolls into Aragon, Spain on the 18th September. It's hard to see what is to be gained by this, but, then again, maybe I've answered my own question by naming the venue at which she'll be racing. It occurs to me that, if Aspar was really serious about promoting a lady racer, he should leave Ms Rossell at home and put THIS Elena on the bike instead.
But, then again, she's not Spanish, is she?
Ducati have announced a massive 61% increase in 2nd quarter sales in the USA, mainly due to high demand for the Multistrada and the Diavell. Since the latter was built specifically to appeal to the US market, Ducati execs would have been EXTREMELY worried if it hadn't taken off there.
More progress on the Shadowfax yesterday with the front hub cleaned and painted and two layers of very recalcitrant paint eventually stripped off the lower fork legs. Hard work, but satisfying.