Most of my readers will be aware by now that, in my early days of following motorcycle road racing, I was a keen amateur photographer. Indeed, the first meeting that I attended was the Australian TT at Laverton, just out of Melbourne, in February 1976. I took along my brand new Praktika LTL single lens reflex camera. I also had a 300mm preset telephoto lens and I used this rig for a couple of years before upgrading to a Pentax early in 1978.
Here's the hero of the weekend, the late Kenny Blake on the Jack Walters Suzuki RG500. This photo was taken from the spectator stands. Very soon I had talked my way into being recognised AS a photographer and had the benefit of a Photographers Pass at each meeting that I attended. This meant being able to wander around the track (almost) at will and get a lot closer to the action.
Wayne Gardner on Kevin Cass's TZ350 at Hume Weir.
I attended dozens of meetings right up until the end of 1981, usually taking photographs but becoming more involved in race commentary from the end of 1978 onwards. And, in the late 1970's-early 1980's I often attended meetings with a good mate also from Canberra who was also a keen photographer. His name was Len Smith and his daytime job was the local representative for MARS confectionaries. He was (and is) an excellent photographer and his employment afforded him the chance of buying some very good quality camera gear. He was the first person I knew to buy a Canon A1 which he also took with him to Britain on a 3 week holiday in 1980. While visiting relatives he also found time to attend a number of race meetings including the Race of the Year at Mallory Park.
After many years during which I lost track of Len completely, he has resurfaced on Facebook, living in Qld and slowly working through and publishing his enormous collection of photographs. It's been great to chat with him again and to see the very high standard of work that he produced back then. Like some of my films, the emulsion of Len's negatives has not stood the test of time well, but that can't disguise the quality of the photography. Len has his own web site.. SPORTZCAM
There  you can see a growing collection of Len's work. If you are a Facebook user, you can also see his work posted in the "Motorcycle Racing Nostalgia" group.
I recommend you go and have a look. I'm loving watching his collection grow.
PS: When I published this last night, I had a feeling that I'd forgotten to include something but I couldn't think what it was. It was, of course, an example of Len's work, d'uh.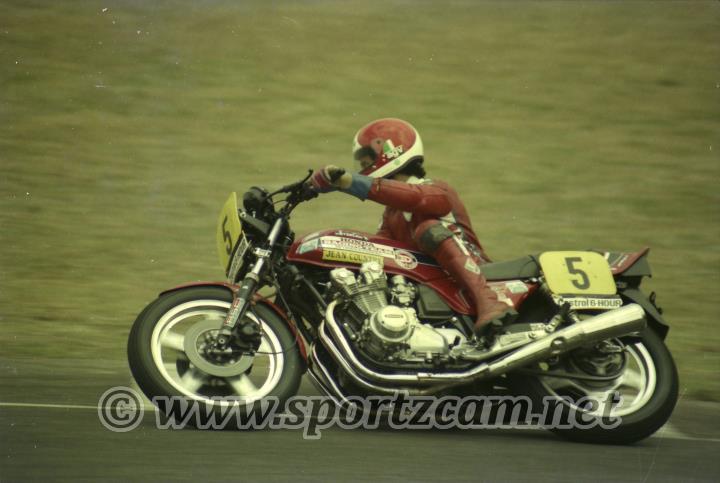 Kenny Blake on the Honda 900. Castrol Six Hour, 1979.