For several months I had been planning a north coast sortie. My wife had a week of art classes planned for the last week of the school holidays so it seems like a logical thing to do to hit the road and see the sights. The following is a summary, with pictures, of the day-to-day posts that I published as the trip unfolded. As it is an "as it happened" account I hope you'll forgive me if I don't correct the tenses.
Day 1: Sunday 17th January 2010.
I set out yesterday morning right on 0700 with the wonderful Taina in tow. She was taking the opportunity of a quick Oxley run before heading home today for multitudes of family commitments. It's always great to have her as a travelling companion. Her artist's eye for the scenery and the odd and unusual makes every stop worth contemplating.
Nothing especially dramatic about the itinerary yesterday – following the road oft-travelled, but that doesn't stop it from being fun. Picton Road, the backroad through Silverdale, Mulgoa, Wallacia and out at Penrith. Link road across to the Northern Road at the northern end of Penrith and on to Windsor/Wilberforce for our first fuel stop. While there a couple of bikes including the unlikely pairing of a Hyosung and a Hyabusa fuelled up and left just after we did.
We took a small detour to look at Ebenezer and take a few photos. Then an almost-deserted Putty Road awaited us and we made the best of it. Just outside Bulga we passed the aforementioned bikes being booked by an unmarked HWP car. Good thing we weren't hustling.
Ebenezer is the oldest church and the oldest schoolhouse in Australia, celebrating its 200th Anniversary in June 2009. The grave that you can see outside the front door of the church is of George Hall, my great-great-great grandfather, one of the founders of the church in 1809.
Fuel at Singleton, lunch at Gresford and then a magic run across the mountain passes to Dungog and Gloucester before heading north along Thunderbolts. It was hot and the cooler temperature up on the tops was certainly appreciated.
Drink stop after the Ten Mile
An "arty" shot of Taina's ZX-6R at the Gresford Cafe.
We pulled in to Walcha about 1600, hot and tired but cheered at having had such a clear and enjoyable run. 635kms total for the day. Dinner at the Bistro (yummy), early night and ready for the Oxley in the morning.
Must pause to again recommend the Apsley Arms Hotel. Wonderful service and the only hotel that I stayed at on the trip that offered a complimentary breakfast for no extra cost. The dining room upstairs is fully equipped with cereal, bread, coffee and condiments so that patrons can prepare a light brekkie for themselves before hitting the road. Very civilised and greatly appreciated.
Day 2: Monday 18th January 2010.
It pelted down rain last night, but the morning dawned clear and sunny, just the ticket for what we had in mind. Set out at 0700 (again) and stormed the Oxley. Well, not quite "stormed" as the road was still a bit damp from last night's rain, but it was a clear, traffic-free run and any day on the Oxley is better than a similar day on any other road anyway.
At Wauchope we had coffee, fuelled up and headed to the Pacific. At the roundabout, we parted company, Taina heading south and me north. A boring 140km transport stage to Raleigh and then up the Dorrigo. Unfortunately, the mountain is having lots of road works done due to falling rocks so it was a stop-start run with three lots of traffic lights in the 14km length. However, filtering to the front each time meant that I could get a good run once the lights turned green. Hopefully it will be fixed soon.
Fuel up and the onto the Tyringham Road that links the town of Dorrigo to Waterfall Way. If you've not ridden this road, you MUST put it on your bucket list. It's tight, switchback-like and unpredicatble, but it's so much fun.  When I got out onto Waterfall, the sign said that it was only 90kms to Grafton, my intended destination for tonight.
The Nymboida river near Bostobrick.
There is a lot of logging activity happening there at the moment so the road is a bit cut-up, but there's still plenty of enjoyment to be had. Unfortunately, the road is becoming more popular with 4WD's particularly, and several instances of coming around corners and finding a big one on my side of the road sort of cooled my enthusiasm a little. Still another "must-ride" road.
The old Presbyterian Church at Nymboida has been converted into a coffee shop with a covered eating area out the back and wildlife to keep you entertained while you wait for your coffee. Definitely worth stopping.
Arrived at Grafton at 1500. Now that seemed like a little bit of a waste of the afternoon so I pushed on to Ballina and stopped here. The Australia Hotel (in no way similar to its namesake in South Grafton), room for $40 and a great bistro. Gotta love country pubs.
625kms today.
The foreshore at Ballina is sure pretty.
And the courthouse is such a charming building, too.
Day 3: Tuesday 19th January 2010.
Well, here I am back in Grafton again, but this time Im staying the night, not just passing through. Fabulous day in the saddle again today, with the weather being much milder than it was on both Sunday and Monday where the sun really had some sting.
My clever plan to ride up from Ballina to Byron Bay and watch the sunrise from Cape Byron was somewhat stymied when I went downstairs this morning to find that the gate to the rear of the hotel was not only closed, but firmly padlocked. I was glad of the security, but a bit disppointed I couldn't get on the road a little earlier while it was still cooler.
Cape Byron Beach. Pretty, huh?
Never mind, an 0700 hit-out was still OK and, as it turned out, when I got on the road, it was quite cloudy so I wouldn't have seen the sunrise anyway.
I did go to the Cape, but passed on the opportunity of walking up the hill to the lighthouse. The sight of dozens of super fit people doing their morning constitutional up and down the steep hill was just too depressing for words.
So, north in search of a different time zone…when you go to Queensland you set your watch back one hour and a hundred years; trust me, I lived there for three years!!
A very pleasant detour to Crabbes Creek just off the old highway, to visit some old friends was a nice break in the journey before attacking the Burringbar Range (taking care to slow down for the Revenue Camera). Then it was on past Murwillumbah and up to Coolangatta.
A stop at Paul Feeney's old shop at Nerang drew a blank as Paul has moved premises. The salesguy was really helpful, but I  didn't bother trying to follow his instructions about how to find the new warehouse.
Out west heading towards Beaudesert, I climbed Mt Tambourine, dodging the cars with the funny number plates. Then it was on to Canungra for lunch and south along the Natural Arch road through the Springbrook National Park. This road parallels the highway but inland and is a glorious mix of sweeping  and tight corners, crossing the border back into NSW before swooping down the mountain onto the plain again. Highly recommended if you like your roads entertaining and free of traffic.
When I last rode the Murwillumbah to Kyogle road it was raining and late in the afternoon and I was in "survival" mode. Today I was fresh and I can safely say that this road is an even more engaging and entertaining one than the Oxley. There, I've said it. 67 kms long and there are two short straights in that whole distance. It is a constant switchback of corners and I wrung the VFR's neck something fierce. If ever I needed to be reminded just what an awesome S/T weapon the 750 is, today was the reminder. I pulled into Kyogle with a grin from ear to ear and I'm sure the lady in the servo thought I was mad.
From Kyogle, I sauntered out to Highway #1 again and tootled on to Grafton, via Lismore.
566 kms today of some of the most thrilling roads I've ridden.
Oh, and I must say something else too. I took some "punts" today on what roads could be good and I was tickled that every one of them paid off. Especially a new one… A little road that I can't even find on my map, and, since I'm using a borrowed computer, I'll leave it till I have time to "google" it for you. A previously undiscovered gem.
This little road that goes from the Beaudesert-Nerang Road through Clagibara and joins up with the Nerang-Murwullimbah Road.
Finally, a word for the Grafton Hotel. VERY motorcycle-friendly. The night manager, Mick Davenport, rides a Blackbird and went out of his way to make me feel welcome and comfortable. Thanks, Mick.
Day 4: Wednesday 20th January 2010.
You know how when you're on a ride and you find a really good road but you're on a timetable and you can only ride it once??? Well, I put a stop to that nonsense.
Today is Day 4 of my north coast adventure and it's been as good, if not better, than every other day. I started out at Grafton this morning, on the road around 0700 in the cool of the morning. What a great time to ride. I basically tossed a coin and decided that I'd start heading south again and leave myself one free day to play on the Oxley. So, I headed south from Grafton until I hit the Glenreagh road that heads towards Coffs. This is a lovely, winding road that follows the Orara Valley and goes through some very picturesque little towns along the way. Glenreagh is a real picture postcard. The road drops you into the western side of Coffs so I avoided the main street and headed straight across to the harbour. Amazing that, since the place is called Coffs Harbour, it had never occurred to me that there WAS a harbour, but a very pretty one it is.
Beach at Coffs Harbour.
Form Coffs, a short and boring run down the Pacific to Raleigh where I cut out and headed west again. Amazingly, considering all the work that was being done on the Dorrigo just a couple of days ago, there was only one short piece and the rest of the road was clear. It was also clear of traffic till nearly right at the top so I got the magic run that I was hoping for, booming the V4 burble off the cliffs.
It's always worth stopping to admire the beautiful Newell Falls.
Obligatory "VFR at rest" shot. It didn't get much rest, I can tell you.
Today was always going to be a sightseeing day so I took the time to go out and see the Dangar Falls, just out of town. What a delightful little spot it is. If you haven't been there, go, it's only a couple of kays out of town and well worth the detour.  My apologies again for the lack of photos, I will redress this shortcoming when I get home.
Dangar Falls, Dorrigo.
Continuing west I hit the Waterfall Way and followed it all the way to Armidale. Fuel and a snack then south to Uralla and across the link road to Walcha. Can you guess what I did next? Yep, and I had a heaps better run than the other morning. No traffic, and a dry road helped the confidence and I wrang it out to a much higher degree of satisfaction. Lunch at Ginger's Creek Cafe and a photography session of flowers and wildlife.
Speaking of wildlife, if you stop at Ginger's, beware of the local honeyeaters. The birds are very tame and very cheeky. One of them climbed up on the table, walked across to my plate and started helping himself to pieces of my carrot cake while I was sitting there watching him; amazing.
The honeyeater about to drop onto the table.
So, I'm in Port Mac, one of my favourite places on the coast. It's cool and the evening is closing in. 550 kms today and I still feel fresh and alert.
Tomorrow is my 2nd last day on the road and I'm going to devote it to a few runs at the Oxley before I start heading home. I have to be home by Friday night so that should give me plenty of play time as well as the opportunity to do Wollombi  and the Old Road as part of the return journey.
Amazingly, the radar was good again today, both times I passed a Revenue Raising car I was doing bang on the limit. Time for dinner and a good sleep. Oh, incidentally, very few bikes on the road and the ones that I have seen have nearly all been Ewan and Charlie wannabes riding pristine, clean GS BMW's; sad.
Day 5: Thursday 21st January 2010.
Port Macquarie, one of my favourite places (I think I already said that). Heading out of town in the morning was all anticipation though as I thought of a chance to spend quality time on the Oxley. The only problem was, I was carrying my RJays pack on the rack, and I'd noticed that the extra weight was providing a bit of a "pendulum" effect in the fast corners…what to do? Well, when in doubt, phone a friend…not really, but I did have an idea. Stopping at the excellent "Mud 'n Tar" Motorcycles in Wauchope, I asked the proprietor, Rod Mulvey if he'd do me a favour. Would he mind my bag and rack while I went and had a play? "No." was the answer, followed quickly by, "Yes, of course, mate."
If you visit Port Mac you can do a river cruise on this Chinese junk.
Now Mud 'n Tar had bailed me out with a problem I had with the CBX550F2 over 10 years ago when I'd been doing an Oxley run. It's so long ago that I can't even remember what it was but they were helpful then and it seems they still are. BIG tick for country motorcycle dealers, they are the salt of the earth.
So, I set off for a play with Rod's words of caution ringing in my ears, "Be careful, we want you back to collect your bag."  Freed of the luggage, BBII handled even better and my passes of the mountain were even more enjoyable because of it. Brunch at Ginger's, pleasant convo with a Harley rider and his wife who were returning to Newcastle from the music festival in Tamworth, and then on the road east again.  Fuel up at Wauchope (man, that tankful went quickly) and south.
Obligatory Gingers shot. This photo was taken on my 2nd ride down on Wednesday (RJays bag attached)
Attempted "arty" shot at Gingers.
Female finch playing in the car park. The place is alive with wildlife.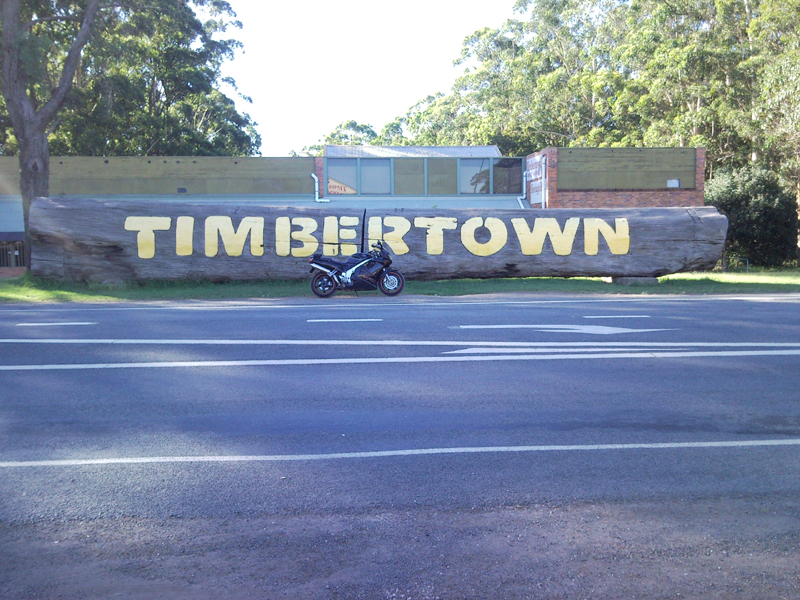 Obligatory Timbertown shot.
If you have to travel north, try and avoid the section of the Pacific between Port Macquarie and Taree. 60 odd kilometres of road works, single lane in each direction, double unbrokens the whole way and a variable speed limit between a max of 80 (rarely) and a min of 40 (often). I know the highway needs upgrading, but I wish they'd get on with it; that section was just like that a year ago when I rode the Pacific last.
As soon as practicable, I baled, SW through Tinonne and Burrell Creek, and onto Bucketts west of Nabiac at Krambach. From there it was south, Gloucester, Dungog, Raymond Terrace and Mayfield where I met up with my brother who'd come to join me for the last leg of the journey.
Unfortunately, Paul had just had a disaster of his own. His sidestand had broken off and the bike had fallen over in the car park while he was waiting for me. So, it was down to Broadmeadow as quickly as possible to the ever-helpful Graeme Morris Motorcycles to arrange a repair. Sadly, Graeme's workshop did not have a welder that could do the job, but the head wrench pointed us in the direction of a wrecker just a few k's away who said he had a box full of sidestands and should have one that would fit. Let's hope so, as it was Thursday afternoon and it was getting uncomfortably close to 5, quitting time. We finally found the place and, at a couple of minutes to 5, the obliging mechanic fitted a new, 2nd hand stand for $25. Phew.
From there it was a cruise across town to Belmont and the Lakeview Motor Inn. Now, for the whole trip I had stayed in country hotels, preferring them for all sorts of good reasons. But, at Heatherbrae, an hour or so before, the temperature gauge at the boat dealer on the highway had said 41 degrees, so the lure of an air-conditioned motel room was too much to ignore. Alan Rhode, the proprietor, rides an ST3 and offered us a generous discount and secure parking as we were on bikes, how good is that? So, after a good feed at the local hotel and a cool room, it was off to noddy land for the final night of my tour.
Day 6: Friday 22nd January 2010.
Day Six of my tour started much better. The morning was cooler a change having blown in during the night. I was grateful as another 40 degree day in the saddle would not have been a nice finish to my trip. So we headed south to Toronto, around the gorgeous Lake Macquarie
and then west towards Cessnock. Through the picturesque winefields we wended until we reached Pokolbin where we stopped for a gourmet breakfast at the Winehouse Bar and Restaurant. Great food and great service, with a view of the stage for the Tom Jones concert being set up in the paddock across the road. Broke (no, not out of money, the TOWN, Broke) and east towards Wollombi. The road is still intriguing though now a little crowded with 4WD's using my side of the road instead of theirs.
Coffee at the roadhouse at Kulnurra and a good giggle as a bunch of sportsbike riders blasted west heading towards Wollombi.
Gas up at Peats Ridge (the Hornet's tankage means you have to do that more often) and a decision to boycott the intended route, the Old Road, in deference to the DD weekend that started at midnight on Thursday. So, backtrack to Central Mangrove and down the Wisemans Ferry road instead.
Now I have been critical of this road in years gone by, the surface has deteriorated rapidly and not much maintenance was being done, making for a bone-jarring journey. But there has been a heap of re-sealing done and the road is much improved. Winding around the riverfront is delightful, although the closeness of the cliffs and the confines do increase the heat factor. We passed a group of Harley riders who, it turns out, were heading for a Rally at Richmond. Somehow the thought of spending a couple of 30+ degree nights in tents at Richmond didn't appeal so we didn't join them.
Crossing the river on the ferry is always enjoyable, the cooling breeze off the water adding to the charm. From there it was down to Pitt Town, Windsor, Penrith, and along my favourite route, Glenmore Park, Mulgoa (lunch at the fabulous "Peppercorns"), Wallacia, The Oaks, Picton, Mt Keira and home about 1600.
3412 kms in 6 days, averaging 568 kms per day.
Now, the purpose of the trip, apart from the obvious one of getting away and spending some quality time in the saddle, was to see if I could physically handle long days on the bike for consecutive days. If I want to do the Big One, then I'm going to have to be able to do that. I'm delighted to say that I found the trip remarkably easy and that 500+ km days of around 7-9 hours in the saddle each day was more than achievable without tiredness and fatigue starting to blunt my concentration on the next day. I should have taken my sheepskin seat cover, and next time I will, but, apart from that, I got off the bike each night feeling remarkably fresh, slept well each evening and started each new day refreshed and full of concentration. All very encouraging.
Now, some observations.
While much of NSW is drought-declared, the North Coast is as pretty as a picture. Dams are full, pastures are green and the verdant conditions has made for great scenery and, as an unintended consequence, an almost total lack of road kill. Animals that usually come to the edge of the road to feed due to poor conditions in the paddocks are not doing so.
The NSW Police's so-called "crackdown" on the highways is so much nonsense. In 6 days of riding I saw 4 HWP cars. Reliance upon speed cameras has blunted what should be a successful campaign to enforce more sensible driving habits. HIGHLY VISIBLE police presence is the ONLY way to achieve this and it's just not being done.
Solo riding is the best "head space" there is. I know of no better way of clearing the thoughts and getting some priorities right than cruising along on your bike. Alan Rhode, at the Lakeview Motor Inn has a sign above the check-in desk. It says, "Ride your motorcycle. You'll never see a motorcycle parked outside a psychiatrist's office." Never a truer word.