I spent a thoroughly enjoyable night last Saturday at my local speedway at Nowra. Those of you who know me know that speedway and me go back a long way, further even than motorcycles and me and it was real thrill to be able to commentate one of the most prestigious meetings on the Australian speedway calendar, the Australian Speedcar Grand Prix. Saturday was the 61st running of this event which goes back to 1938, and which has been won, over the years, by the cream of the crop of both Australian and American speedcar drivers. Legendary Americans like Bob Tattersall, Mel Kenyon, Ron "Sleepy" Tripp and A J Foyt all have their names on the trophy along with equally legendary Australian drivers such as Gary Rush, Ray Revell, Barry Graham and Johnny Stewart.
I had the privilege of having the doyen of speedway commentators, Allan Edworthy, assisting me in the commentary box and, between us, we had enough fun and frivolity to last us well into next year. I know the crowd (and it was a HUGE crowd) had fun, but they couldn't have had as much fun as Ollie and me with the constant back-chat and banter that was taking place behind the microphones. I first got to know Allan in the early 80's when I was working the infield communications loop at Parramatta City Raceway. Allan and Stuart Telfer were the commentary team, but  Allan's other speedway commitments sometimes kept him away so I was called in as relief commentator. Then Allan came to me one night after the meetings and said, "Hey, Phil, would you be interested in the gig at Kembla Grange (Wollongong)?" I knew that he was doing PCR, Kembla and Newcastle and he said that it was all getting a bit too much. So I offered to go down to Wollongong the next Saturday night, call a meeting for free and see if the club liked what they heard. If they did so, then I was happy to do it on a regular basis. The rest, as they say, is history and I commentated the last three seasons at Kembla until the horse racing people resumed the property to expand their complex and the speedway was closed at the end of the 1985 season.
So it was a huge buzz to work with the man again especially since he has an encyclopaedic knowledge of the sport and particularly of speedcars. The meeting was a huge success for the little local club to promote and the drivers were universal in their praise of the track and how the meeting was run. There is even talk that the GP may be run at Nowra again in 2013 (you heard it here first).
BUT there was one thing that disturbed me a little. Also on the programme were Wingless Sprintcars (just like the real ones but with no wings and a smaller engine), Lightning Sprintcars (look exactly like real ones only smaller and run a 1000cc engine) and Compact Speedcars (look like proper speedcars but are restricted to a 1300cc engine) plus the big speedcars (restricted to a 2700cc engine). The problem is that they nearly all looked exactly the same.
Now there was a time in speedway where every open wheel division had cars that looked different and that difference was dramatically illustrated by the static display in the spectator are, the star of which was the glorious SCAT/VW-powered speeedcar that took A J Foyt to 3 ASGP victories in the late 1970's.
Over-restored, unfortunately, but wonderful nonetheless.
So, what is the problem? Well, nearly all open-wheel speedway cars now conform to the wedge-shaped design as shown below. Constrained to a certain extent by technical regulations and engineering considerations, the various divisions seem to have morphed together into a unified design that makes it hard to distinguish one from another.
These are compact speedcars.
This is a sprintcar
This is a speedcar. Take away the wings and they could be the same car almost.
So there is a loss of individuality taking place that is subtle and sometimes unavoidable, but is robbing each division of its own style and attraction. And, before we say that it's just a speedway thing, let's take a look at our own back yard.
What bike is this?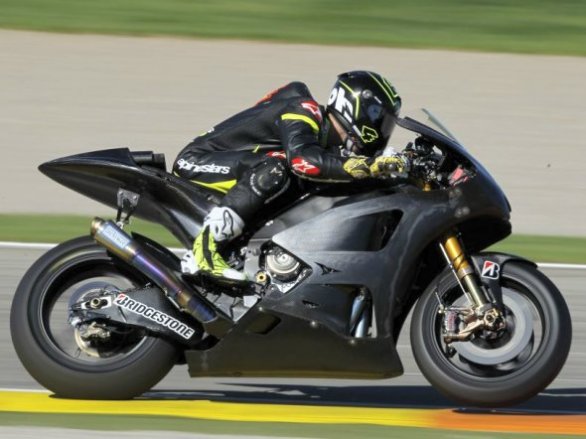 Yes, it's an M1 Yamaha, but you're a knowledgeable reader. Haven't all our modern sports bikes, MotoGp bikes, WSBK bikes become so similar that it takes a moment to detect which is which? This bike, without the sponsorship decals, could be any bike, really. The same ting is happening in Formula One and in other areas of car and bike racing. Individuality is being suppressed by technical regulations, aerodynamic considerations and designers who lack the creativity to create anything more than a "me too" design. It's much easier to copy than it is to innovate.
Of course this whole "me too" philosophy is symptomatic of a general malaise that has now permeated our whole society, where "standing out" "being different" is seen as being somehow rebellious and subversive. Our society is sinking into a blandness from which it may never recover. And it is reflected in car and bike design. Let's hope that the next radical thinker is just around the corner, someone who can work within the required parameters but still produce something that is new, refreshing, innovative and fun. I'm tired of the grey porridge school of design. Bring back John Britten!!!
PS: Thank you to all my readers who pointed out that Kembla Grange didn't close in 1895!!!