I've been privileged to have been able to visit the above venue several times. The museum is located at Bathurst, at the bottom of Conrod Straight on the famous Mount Panorama racing circuit. It is a permanent structure which was established a few years ago and has an impressive collection of vehicles that represent a large cross-section of the chequered history of motorsports in Australia.
As well as bikes, there are some wonderful cars including the 3.4 Jaguar used by the late David McKay to win the inaugural Australian Touring Car Championship. Speedway cars, Bathurst winners from both sides to the famous divide, and open-wheel cars are all featured.
In the last 12 months the museum has hosted a display dedicated to the memory of the late Gregg Hansford, about which I will be publishing a full-page article soon. I was so pleased to see the display as it brought back wonderful memories of one of my favourite riders. Unfortunately, there wasn't one of the helmets worn by Gregg, which I thought was an oversight. But, overall, I think it's a wonderful display and well worth going to the museum to see.
Here's a few pictures from the Gregg Hansford display.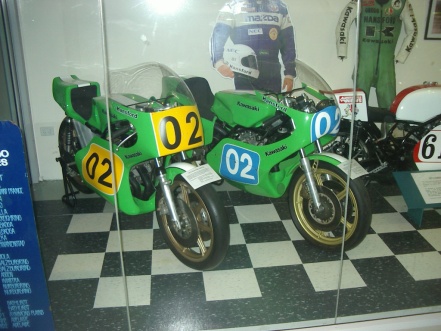 Gregg's older H2R Kawasaki 750 triple and his KR350 twin.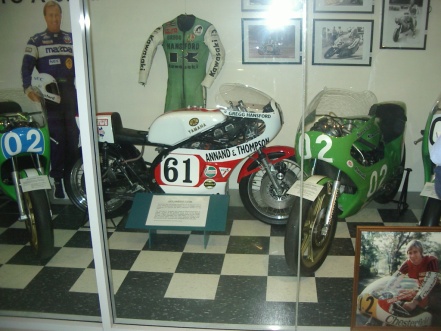 Gregg's Annand and Thompson TZ700 Yamaha on which he staged the amazing 1974 duel with Warren Willing at Bathurst.
Gregg's KR250 twin and the KR750 Kawasaki 750 triple.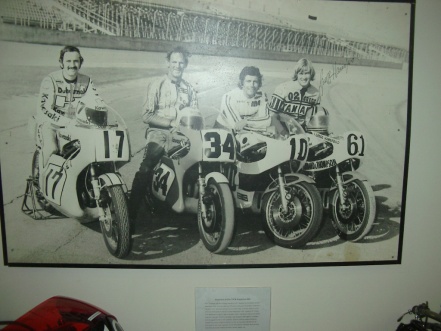 This amazing photo is also on display and shows a prestigious group at Daytona Speedway in 1974. From left to right, Kawasaki USA's Yvon du Hamel, Australia's Ron Toombs on his Australian-built H2R, Multiple World Champion, Giacomo Agostini on his Yamaha TZ700 and the late Gregg Hansford on the Annand and Thompson Yamaha TZ700.
If you're anywhere near Bathurst, you owe it to yourself to go and see the National Motor Racing Museum.