I went to a truck show on the weekend. Pretty unusual as I'm not really a truck man at all but I did have my reasons apart from the fact that it was a sunny, Spring day. The show was at Port kembla at the main depot of our local heavy haulage and earthmoving contractor, Cleary Brothers. Clearys have been around since before WWII and a couple of generations have operated and grown the company from its old, original depot at Bombo quarry, near Kiama, to a multi-million dollar company whose reach goes well beyond the immediate Illawarra region.
It is not generally known that Jack Cleary provided and drove the bulldozers and earth-moving gear that excavated and profiled the Oran Park circuit in Sydney, nor that he did so free of charge as a way of helping the fledgling effort get up and running. But it wasn't that reason that took me to the show.
My first job after I left school at the end of 1967 was a contact one helping remove the scaffolding for the Ghost Creek bridge at Figtree, the bridge that spans the M1 freeway just down the road from TIGS. The plan was to enroll at the Wollongong University and start training as  high school history teacher in 1968. It didn't happen. While I achieved the necessary pass marks to enter, I missed out on a scholarship to help fund my tuition and my parents were not in a position to do that for me. So, my studies had to take a back seat while I got a job, saved up the necessary money and went to Uni in 1969 instead. I was fortunate that jobs were in good supply at the time and so I spent a year working as a labourer on Kiama Council.
It was a great job, I was out in the open air, doing manual work, building up my strength and getting right out of the educational rut that I had been in for the last 12 years. I met lots of great people, learned a LOT about life and how to get along with adults AND I saved up more than what I was going to need to fund my first year at Uni the following year.
And I learned about trucks. Most of the guys on the council were either truckies or ex-truckies or wannabee truckies. I learned about Macks, Peterbilts, Kenworths, Henschel diesels, GM diesels, Cummins motors and a million other bits of essential truck-ology. As someone who had made a lifetime hobby knowing all there was to know about cars, this was a whole new world for me.
But, mostly, my truck education was governed by just one truck. It was a "B" Model Mack, so they told me, and it belonged to Cleary Brothers. Before Clearys adopted their current bright yellow livery, all their trucks were red and this one was red. It was a hard-working truck, operating 24/7 hauling huge boulders from a quarry down the coast somewhere to Sydney where the new north-south runway was being built at Kingsford Smith airport. This was a massive undertaking as it involved establishing a whole new runway that stuck out into Botany Bay. These days we take it for granted but, back then, it was a major engineering project. Clearys had the contract to do the earthworks and one aspect of that was to haul these massive rocks to Sydney where they were bulldozed into place to form the foundation of the runway.
When I say huge, I really mean huge. The Mack towed a low-loader trailer and, most of the time when passing through town, its sole load was one big rock. I don't know how many tons it weighed but it would have been 30 or 40 tons each time, I reckon.
Hauling a load like that requires serious amounts of power and torque and the Mack had that in spades. It was powered by a Thermodyne six cylinder engine and it had an exhaust pipe up the back of the cab that was easily 10″ in diameter, chromed, with a slash-cut end. It was most impressive.
What was MOST impressive about the truck, however, was the sound that it made. Long before the days that the DMR tested trucks for noise, the Mack had the wildest, loudest and most intoxicating sound that could have been imagined. Everybody in town knew when "The Mack" was passing through town (no Kiama by-pass then, the highway ran through the middle of the town). The Mack could be heard for literally miles away as it approached the town, climbing up the big hill past Easts Beach Caravan Park and then again, as it left town, bellowing its way up the super-steep Bombo Hill past the quarry and Cleary Broithers HQ. When The Mack was in the area, we stopped what we were doing and listened to the driver playing tunes on the exhaust as he wound it up and down through the gears on his way through town and out the other side. It is an enduring memory and I often wish that I'd have taken my cassette recorder and recorded that amazing sound.
So, I went along to the show hoping that Clearys, with their noted propensity for preserving their history, would still have The Mack. I wasn't disappointed. In the finals stages of a total restoration, the truck was at least as big and impressive as I remembered it being. In a month or so it will be complete and one of the Cleary employees on site told me that it will be running and that people will be able to again hear the amazing roar of the Thermodyne engine; I can't wait.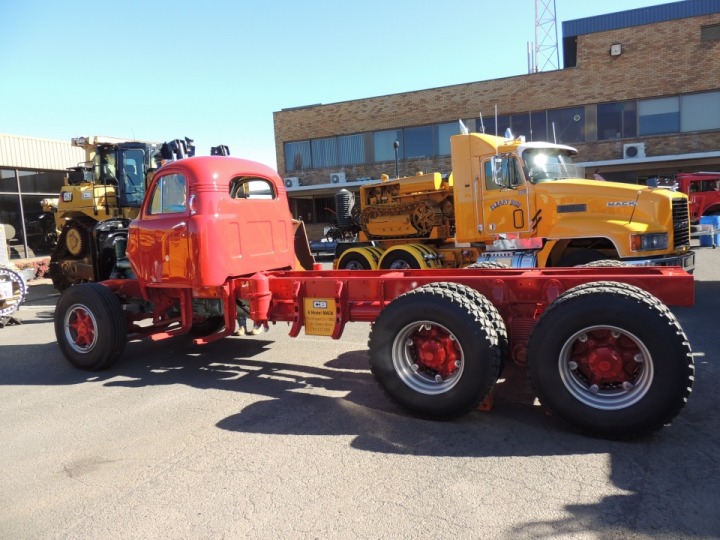 So, after an hour or so of overdosing on big rigs, I started heading for home. As I started heading down the driveway I heard two bikes approaching. A big, black, Harley rolled in accompanied by an equally black Ducati Diavell. The both stopped outside the main shed and the riders got off. I took a few more photos of an old truck and started walking down the drive. It was then that I noticed a trail of black oil on the ground. I jokingly said to the lady with the truck that someone had a problem. "Yes', it's him," she said and indicated her head in the direction of the two parked bikes. She was right. The Harley was sitting in a patch of oil that smelt very hot and very new. I asked the lady what had happened but she didn't know, so I followed the trail which was leading back down towards the gate.
At the gate there was a concrete pad about a foot wide which was divided along its length by a steel rail that obviously was the track for the electric gate system. The oil trail stopped at the pad, or, more to the point, as I discovered, it STARTED at the pad. It seems that the rider had ridden a bit too quickly across the pad and the bike had bottomed-out on the rail, tearing out the sump plug and part of the sump, as I was soon to find out.
Now I am not a person to garner enjoyment out of other peoples' misfortunes as I'm sure those of you who know me would agree, so I couldn't help but feel sorry for the rider. Even if the incident could partly be of his own making, nobody deserves to have their Sunday morning ruined like that. When I asked him how he was going to get home, he seemed very philosophic. A mate was coming to pick the bike up and, anyway, "It's only money," he said as he held out the broken piece of metal for me to examine. I am certain that I wold have been far less nonchalant about the whole situation had it happened to me.
I guess his low ride was a bit too low.