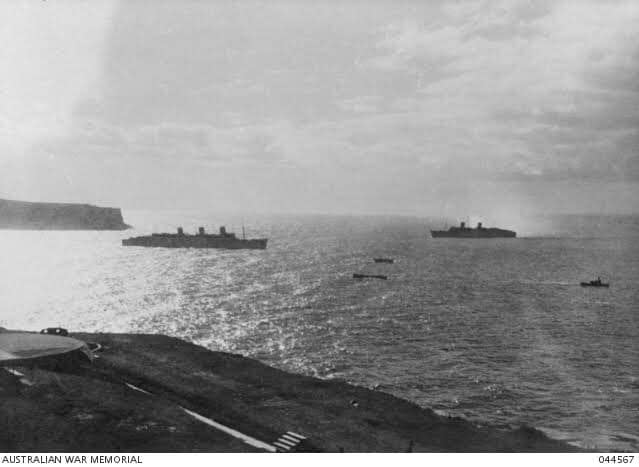 This photo was taken on the 3rd of June 1941 and it depicts the two greatest ocean liners of their era, the Queen Mary (3 funnels) leaving Sydney Harbour while the newer Queen Elizabeth is passing by on the way into port.
Almost as soon as the war began in 1939 there were plans to use the two liners as troopships. Queen Mary sailed her last peacetime voyage to New York on the 30th August 1939, literally days before war was declared (3rd September 1939). She was kept safely there while the plans for her wartime service were finalised. With the need to shift large numbers of troops around the globe, the speed and the carrying capacity of both of these huge ships was going to play a major role.
Shortly thereafter, QM sailed for Sydney where she was docked and converted into a troop carrier. Much of her luxury fittings were removed and carefully stored for post-war use (I wonder what happened to them afterwards?) Rooms and cabins were modified as necessary to allow for many more passengers than would normally be her complement and anti-aircraft guns were fitted. She was also fitted with de-gaussing gear that would prevent her from falling victim to mines. All of these precautions were even then thought to be unnecessary as the liner's superior speed was seen to be her greatest defence against attack from the surface or from German U Boats.
At the time there was considerable angst amongst navy and merchant navy "boffins" over the idea of using the two "queens" as troop ships. While everyone acknowledged that their carrying capacity made them ideal for the task, the idea of risking the two queens of the ocean to sail, unescorted, across the oceans, carrying thousands of men was, many felt, too risky.
As it turned out, the naval authorities were right. Both the queens were capable of speeds over 30 knots, far faster than any of the German ships and considerably faster than any submarine. Even in an ambush situation, the ships could just dial in more speed and sail away from danger.
Of course, the other advantage that the queens had was their carrying capacity. After conversion, QM could carry 10000 troops. In early 1940, QE joined the fleet and she also had impressive capacity. When the United States of America entered World War II, the Cunard Queens were redeployed to the North Atlantic troop service, to aid preparations for the D-Day landings. As the need to move troops increased, both ships were altered to boost their carrying capacity even further. Following the refit, both Queens began regularly transporting over 15,000 people per crossing.
A little later in one trans-Atlantic crossing, QM carried 16638 people, a record that stands to this day.
Now all of this is fascinating, well, I find it fascinating, but there is a little more to the story.
When WWII broke out in 1939, my dad was 28 years old. He was eligible for military service and volunteered but, as his doctor told him beforehand, he would fail on medical grounds. When dad was 13 he was bashing Scotch Thistles with a stick in the front yard of his Hunter Valley property and one of the spikes from the thistle flower flew into his left eye and blinded him in that eye. Despite the limitations from then on, dad lived pretty much as normal life as you would think. BUT, being blind in one eye disqualified him from active service.
But he still wanted to serve and he was allowed to sign up as a soldier. He worked as a medical orderly in the massive military hospital that covered the arena at the Sydney Showground. The hospital's main concern was caring for wounded soldiers returning from active duty. They also cared for soldiers who had been repatriated with battle fatigue (we now call it PTSD).
One day dad heard that the Queen Elizabeth was going to be coming into Sydney Harbour. He hopped on his pushbike and rode out to Watson's Bay, the South Head of the harbour. There, to his amazement he saw not only QE entering the harbour but QM leaving, as he said when he told us the story, two ships passing in the night (well, it wasn't night-time but you get the idea).
As kids that story amazed us and, with the innocence of youth, we asked dad why didn't he take a photo of the event. As a large military establishment was very close by on South Head, he explained to us that, had he attempted to do so, he was sure he would have been summarily arrested and thrown in the slammer.
Evidently the official war photographer WAS there to record the event and the picture above, from the Australian War Memorial archives, documents dad's remembrance.