I have been reminded a few times recently on various social media posts of an old friend of mine, Paul Feeney. When I first met Paul he was a member of CRRC and was racing for the club as sidecar passenger to another club member, Ray Spence.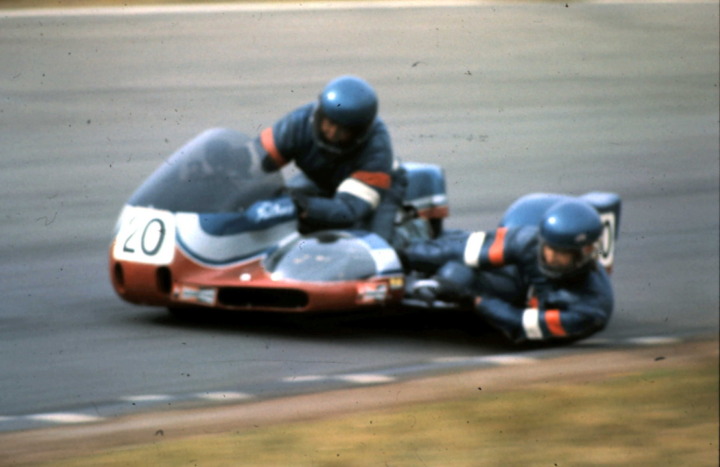 In early 1981 Paul went solo racing, taking over the reins of the Ross Hannan Kawasaki superbike that had been ridden by Graeme Crosby.
From then on, his career path was in solos. The highlight of his racing career was his win, with Richard Scott, in the 1985 Castrol Six Hour race at Sydney's Oran Park, riding an FZ 750 Yamaha for the Matich team. I was greatly torn watching the race on TV as two of my favourite riders were in contention, Paul on the Yamaha and the late Lenny Willing on the GPZ900 Kawasaki. As is so often the case, the race was decided in the end by a fair measure of luck.  Going down the straight at top whack, Lenny drifted just a little wide and the front wheel ran through a puddle on the edge of the track and he crashed. This left the Feeney/Scott Yamaha in the lead, a lead which they held to the end. To his credit, Lenny remounted, got the bike back to the pits where mechanics fixed the damage and sent the bike back out onto the track where the team eventually finished 2nd overall, a stunning effort.
Once Paul's racing career had wound down I lost track of him for a while though his name would crop up in the motorcycle press with mentions of his various business ventures, culminating with his opening of a dealership bearing his name in Nerang, on Queensland's Gold Coast.
And so it was that, in 2006, over 20 years since our paths had last crossed, I met him at his bike shop. A mate of mine and myself did a 6 day tour of far north New South Wales and SE Queensland and I dragged him along to Nerang so that we could see Feen's new bike shop. By this stage Paul had taken over the Australian distributorship of MV Agusta motorcycles and the showroom floor was heavily loaded with Italian exotica. Arriving unannounced I was fortunate to find that Paul was in the shop and we spent the requisite time shooting the breeze as you do. I asked him how business was going and what the MVs were like. My only real contact with MVs had been when Ago came out in 1976 and raced one at Laverton and I recalled it being fast, loud but out-gunned by the new RG500 Suzukis.
Paul was enthusiastic, not only about the bikes themselves but also with the attention that they were drawing in the marketplace. Part way through the conversation, he paused and looked at me and said, "You wanna ride one?" I was stunned but replied that, hell, yes, I'd love to. Paul looked at his watch (it was getting on in the afternoon by this stage) and said, "I can't do it today but come around at 0930 and I'll have one ready for you to ride." He looked at Damien who was tyre-kicking in the background and asked, "Would your mate want a ride, too?" I think my reply was something akin to whether the Pope was a Catholic and whether Dolly Parton had trouble seeing her belly button. "OK, I'll see you in the morning," Paul said and that was it. When I told Damien he was almost disbelieving but was more than prepared to give it a go.
Come the appointed time in the morning we arrived at the shop to find an F4i and a 750 Brutale being warmed up on the forecourt by one of Paul's mechanics. Paul came out and greeted us and apologised that he could only lend us the 750 Brutale as the 1000cc version was presently being used by V8 Supercar driver, Russell Ingall. Like we cared, a ride was a ride, and a FREE one was doubly so.
I asked Paul where he would like us to go and did he have a set testing route he wanted us to follow. "Nah, mate, take it anywhere you want to; get out of town and up into the mountains, there are some great roads up there." Gulp. I asked him when did he want us to bring the bikes back, "Anytime, mate, take your time and enjoy the ride." Gulp again.
We parked our bikes out of the way, put our helmets back on and started threading our way through the busy back streets of Nerang. Sitting on and riding the F4i was a HUGE shock and dodging traffic and congestion was hardly the ideal place to be learning how to deal with the sensory overload. For a start, the thing was, and remains, the most diabolically uncomfortable bike I have ever ridden. The term, "committing an unnatural act with a monkey," was coined to describe the extreme sports bike riding position and never has it been truer than in the case of the F4i. You needed arms about twice as long as mine, a double jointed neck and legs that folded up and fitted in your pockets. I'd like to say that, as time went by, I got used to the riding position and it all started to make sense but I didn't and it didn't.
Out of town and up into the ranges in the Gold Coast hinterland, the redeeming features of the F4i started to show. The sound was just electrifying; I kept the thing in lower gears, not because I was afraid of going fast on it but because it would enable me to play tunes on the exhaust pipe. The handling was amazing. I thought my VFR pointed pretty well, and it did, but the MV was in another league. I found myself turning in too soon because the bike reacted way faster to the rider input than I had been used to. I'd like to say that I got my knee down and did Giacomo Agostini impersonations but, of course, I didn't; it was someone else's bike for goodness sake.
I pulled up beside Damien a couple of times and asked how he was going. His smile could be seen through the chin piece of his helmet.
After quite a while of enjoying the Springbrook twisties, we pulled up at the summit of Billbrough Falls. A little coffee and cake provided a rest to my sore arms and neck and a chance to swap impressions with Damien. As we basked in the dappled sunlight and listened to the metal parts of the bike tingling as they cooled down I noted to Damien what I have related above. For his part, he loved the Brutale. His own bike was a BMW K1200, a big, muscly touring bike. For different reasons than me Damien found the change between the two bikes amazing. The 750 was light, flickable and LOUD, even louder than the F4i but Damien said it might take him a while to get used to the riding position where it seemed that you were sitting on top of the headlight with nothing in front of you except the road!
We swapped bikes for some of the run back to Nerang and Damien's impressions of the Brutale were spot-on, man I could live with one of those things. After some photography (which Damien did much better than me with my little compact digital camera) we wound or way back down the mountain and found Paul's shop. We'd been on the road for over an hour and a half but it didn't seem like that.
With the bikes safely returned we hopped on our own steeds and headed off to our digs for the night. Climbing aboard the VFR seemed like getting into a lounge chair; though I was never a sports bike man, the experience with the F4i convinced me that I didn't have the flexibility to ride one all the time. A long ride some years later on a GSX-R750 did, however, change that opinion somewhat, what a gem of a bike that was I COULD live with one of them.
When my mates at home found out what Damien and I had been up to on that day we were almost excommunicated from the group! As my heading says, it isn't WHAT you know, it's WHO you know and, man, did we prove that saying that day!