In my continuing series on bikes that their manufacturers have cheerfully disowned, I want to look at another "it seemed like a good idea at the time" motorcycle, the Yamaha GTS1000, and, as part of that examination, I'd like to look at its outstanding feature and why it was part of the reason the bike was not a sales success. I'm going to start with the technical bit then look at the feature as it was applied to this beautiful, but orphaned bike.
Hub-centre steering (it goes by many names depending on whose interpretation of the engineering is being discussed) is not a new idea (very few engineering concepts in motorcycling are – the "nothing new under the sun" principle). It goes all the way back to the early 1900's when motorcycling was new and any and all ideas were being tried. The famous Ner-a-Car of the 1920's had many innovative ideas including hub centre steering. It was probably the first "mass" production vehicle to include the feature.
Experimentation with the concept bubbled along beneath the surface, emerging from time to time from dingy workshops and backyard engineering shops. The principle became understood, at least theoretically, very early in the process. The traditional front forks on a motorcycle have to deal with three separate forces and often have to do so simultaneously. They are smoothing out the irregularities of the road and keeping the front wheel on the deck while braking forces are being applied. Early engineers realised that this was going to lead to unacceptable compromises so they sought ways of isolating the three forces from each other and endeavoured to make all three work better independently. So far, at least, we are in agreement. Each engineer tinkered with different ways of doing this but all seem to have agreed (by experimentation rather than consensus) that, if the front suspension could be designed so that the braking forces could be divorced from the suspension ones, then things would improve dramatically.
As any motorcyclist knows, having most of the suspension travel being used up by the compression of the forks under braking, when suspension compliance is needed most, is not desirable. Also deflection of the forks while cornering can lead to instability and compromised handling at a time when precision is most required. The majority of HCS experiments partially solved both of these issues.
HCS removes these forces from the suspension and applies them horizontally rather than vertically through the parallel arm or arms  (often called "wishbones" drawing on car technology and parlance) Thus the bike does not "dive" under braking but remains level and stable and suspension "stiction" (the inability of the telescopic fork to multi-task) is eliminated. Win-win, right? Well, no, not really because, for every advance there is usually a penalty that must be paid and the three penalties that are part and parcel of every HCS exercise are, reduced rider "feel" (vagueness), excess weight (a much more complicated and heavy hardware issue) and rider resistance to new and odd ideas (conventionality)
By the 1970's, European Endurance racing, the laboratory in which many of the concepts that we now take for granted, was flinging up all manner of clever concepts the using of which gained valuable seconds on the track and valuable MINUTES in the pits. Quick-detach front and rear wheels, for example, came directly from the innovators who spent many man hours trying to win the Bol d' Or and other prestigious races. And British team, Mead and Tomkinson pushed the envelope like no other. Drawing on the work of Jack Difazio (I always think of "Happy Days" when I hear his name) they built and raced two endurance racers, the first based around a Laverda triple and the second around a Kawasaki Z1000. I say, "based around" because, as well as the HCR feature the bikes used the engines as a stressed member of the frame and bristled with all sorts of other innovations as well. Christened "Nessie" and "Nessie2" after the famous Loch Ness monster, they were ugly to the max but very effective.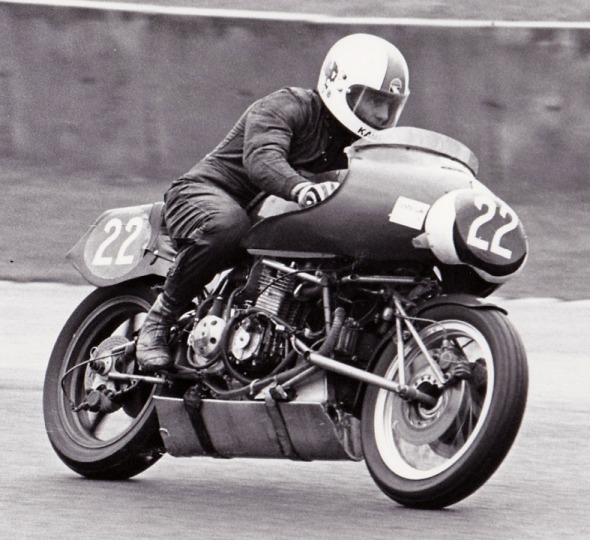 Since the engineering was done in the public eye, and since it is extremely hard to patent an idea and keep it to yourself (make one minor change to the overall idea and you can claim it's yours) it wasn't surprising that the French fuel company, ELF, in partnership with Team Honda, built and raced bikes with HCS in both endurance AND Grand Prix racing in the 1980's. Of course, the single sided swingarm of the VFR Hondas is a direct result of the R&D done with these bikes. While Honda found that the technology was very effective in both aspects of racing, the disadvantages mentioned above eventually doomed the project.
Some years ago I was privileged to do a long interview with British rider, Ron Haslam and he was most forthcoming on the subject of the ELF project and HCS in particular. As well as revealing that a lot of office politics severely interfered with the development, he said that the bike would never have been effective in Grands Prix because the added hardware involved militated against the power-to-weight ratio. The advent of carbon fibre technology could have reduced this disadvantage but the idea had been binned by the time that was perfected.
Ron also said that the bike itself was a dream to ride, being stable and predictable and allowing the rider to carry great corner speed. However, the front "fork" was EXTREMELY subject to the slightest disturbance and, even if it was only slightly touched on the track while the bike was heeled over, a crash was the inevitable result. At one GP he had crashed, again inexplicably, and the mechanics, examining the bike found a tiny mark on the extremity of the fork, so small that it looked, in Ron's words, like it had been done by a small nail file. Checking back through his memory, Ron recalled that he had brushed a kerb moments before the accident. It didn't exactly inspire confidence.
In 1991 Bimota introduced the ill-fated "Tesi" which featured HCS bit, sadly, none of them ran long enough for the efficacy or otherwise of the system to be evaluated.
In the mean time, James Parker, an American engineer, developed the RADD design, another variation on HCS and it was this design that was used by Yamaha (the first major manufacturer to commit to HCS for a road bike) when they introduced the GTS1000 in 1993. A radical and daring design for a Japanese manufacturer, it was marketed as a luxury touring bike and it was priced accordingly. With an FZR1000 engine producing a mere 100bhp, the big and heavy bike was always going to struggle in a fiercely conservative market, especially since it was especially aimed at the USA.
Sadly, as is so often the case, timing was everything. By the time that the GTS1000 hit the market, the Upside Down Fork had been invented and refined and, while the GTS DID feel smooth and composed (the intended major advantage of HCS), it didn't feel THAT much better than a comparable bike with "conventional" suspension. When you factored in how much MORE you had to pay for it (a LOT), how much it weighed and its relatively pedestrian performance, it was clear that Yamaha had missed the boat.
Oh, and here's a picture of the GTS1000 undressed.
Today you'll be lucky if you see one. A friend in Canberra is a fan and has TWO of them; he thinks they are the greatest thing ever. Pristine examples (I've never seen a shoddy one) turn up at bike shows from time to time and always attract an appreciative crowd, but sales of second hand ones don't often happen. There weren't that many of them to begin with and owners now prefer to keep them and cherish them as another example of a bike that promised, but, in the end, failed to deliver.
On another subject altogether, I am slowly getting my little CBR20RR ready. I've had it for ages (I can't really remember how long) and I haven't started it in all that time, consequently the few times I have tried to do so I have found that there hasn't been enough charge in the battery to get it going. So, late last week, I connected up my trickle charger and left it on for a day or so. After a bit of persuasion, she burbled into life and ran cleanly, hooray. However, I didn't run it because the previous owner told me when I bought it that it had had a serious water leak and that's the reason why he had parked it. Yesterday I pulled the fairing off and found a massive split in one of the water pump hoses. Thanks to my good friends at Oak Flats Motorcycles I was able to source a good example of the hose that I needed and I fitted it yesterday afternoon. The cooling system now holds water (going to buy some coolant, don't worry) and she's a goer. Just have to put the fairing back on (damn, working on little bikes is a pain) and we'll be good to go.
Thanks for reading as always.