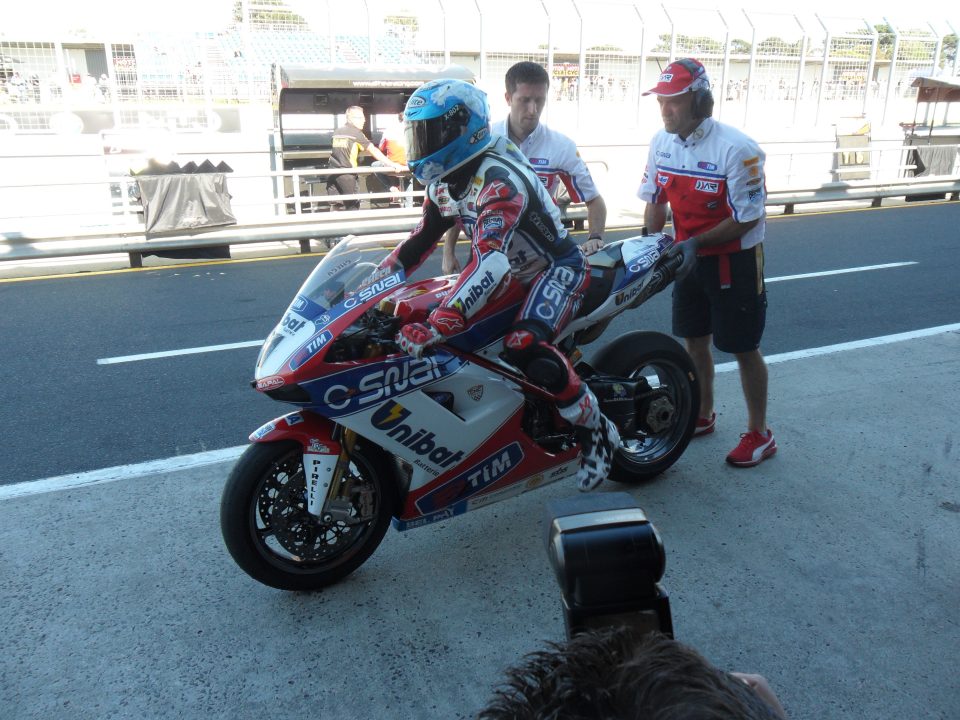 Well, the first round of the WSBK at Phillip Island last weekend delivered the very best and the very worst of what a race meeting can deliver. Champagne racing in the premier categories and the tragic death of a 17 year old competitor in one of the domestic races.
I was at PI as a member of the press, yes, I know, amazing eh? My press accreditation as a representative of MotoPod came through without a hitch and, on arrival at the track, I was handed my Press Kit with car parking sticker and my green pass which basically allowed me to go anywhere at all except onto pit lane while the three big races were being gridded, a small inconvenience. It also gave me a desk in the Press Room, access to as much bottled water as I wanted and free sandwiches for lunch each day. Most importantly it guaranteed me an air-conditioned haven from the 37 degree heat that was the main feature right over the whole of race week.
Jim had sent me to PI to try and secure some interviews with riders and personalities that would be interesting for the MotoPodcast programme. He used his previous contacts to ensure that I secured an interview with World Champion, Carlos Checa, but, apart from that, I was left to my own devices to use my guile, previous knowledge and undoubted charm to arrange any others!!
And, arrange them I did. All in all, something like 16 interviews, mostly of between 15 and 20 minutes in length, just by asking politely and being prepared to fit in with the teams' schedules. Carlos, as noted already, Tom Sykes, Johnny Rae, Sheridan Morias, Broc Parkes, Eugene Laverty, Carlo Firoani, the Honda team Manager, Roland ten Kate, Georgio Barberi, the Pirelli Team Manager to name just a few. Everyone of them obliging and more than happy to spend time talking about their passion. I missed some through scheduling problems; Fabien Foret failed to front at the appointed time and a technical issue with the voice recorder lost me a solid gold interview with Ron Haslam and another with Kenan Sofoglu. No use crying over spilt milk and I hope that what I got more than makes up for what I lost.
I got to spend time with many great people along the way; ex-pat French road racer, Vic Soussan who I haven't seen since the Sandown Park round of the Swann Series in 1979; Malcolm Pitman, one half of the famous Pitman brothers from South Australia, and creators of the famous, Coca Cola 800-winning chain drive XS1100 Yamaha, Australia's premier motorcycle journalist, Don Cox, battling with the increasingly debilitating effects of MS, well-known journalists, Darryl Flack and Mike Esdaile and, of course, the racers themselves.
Of the fatal accident, I know very little. I was actually in the hospitality van interviewing South African rider, Sheridan Morias, when it happened and didn't even know it had happened till I got back to the press room. Suffice it to say that it hit the close-knit racing community heavily, and not just the domestic riders, but the O/S ones as well, Carlos Checa pausing in his acceptance speech after Race 2 to pay tribute to Oscar McIntyre and express his condolences to the family and friends on behalf of the WSBK fraternity. Suffice to say that the normally bouyant and light-hearted mood in the paddock on Saturday had become very subdued on the Sunday. My condolences to all concerned. I've seen plenty of incidents like this at the track, but they never get any easier to accept.
The racing? Well, it was brilliant. Checa was pulling away when an unforced error brought his race to and end at T12 in Race 1, leaving Max Biaggi to cruise to an easy win. In Race 2, Carlos showed what might (and should) have been, winning easily. Unfortunately, Carlos's courageous ride in that race was almost completely overshadowed by Max Biaggi's astonishing "burn from the stern" to take 2nd. No doubt about it, the old blokes are hard to beat.
In the WSS, my hopes were resting on the pole man, Aussie, Broc Parkes, but he had a shocker of a start and languished in 6th for much to the race, overshadowed completely by a red-hot battle for the lead between WSS returnee, Kenan Sofoglu, Fabien Foret (a veteran of the class) and classy new-comer, Sam Lowes. Broc finally got on the podium on the last lap run to the flag, showing what a clever rider he really is finishing a distant 3rd behind Superglue and Foret. 1-2 to the Kwakas, the green army was ecstatic.
My press duties kept me away from the track during most of the domestic races but I was able to see a young man called Alex Phillis finish 5th overall in the Superstock races. Watch that name, the apples hasn't fallen far from the tree.
I'll get some more impressions and stuff down in the next few days, but, if you want to look at my album of pit shots, follow this link.
Oh, and just to show that it really IS worth being a member of the press.