The FIM has announced the (almost) complete entry list for all categories of Grand prix racing for 2012. It can be accessed from the link below, thanks to mcnews.com.au
It certainly makes for some interesting reading. Notable in MotoGp is that the total grid size moves from 17 (though that was rarely achieved in 2011 with injuries to riders and team turmoils) to just 21 in 2012. Hardly the huge boost to the grid sizes that the introduction of the CRT class was supposed to deliver. Of the 9 CRT riders accepted it is going to be VERY interesting to see just how competitive they all are. I'm guessing that the FIM had many more prospective entrants who were rejected on the basis mainly of them being half-baked and not likely to be able to field a competitive package, but how many of the accepted teams will be able to get within a bull's roar of the prototype bikes is another issue altogether. Ezpeleta has said that the class will be a "work in progress" for the first couple of years and has stated that DORNA will "do what they have to do" to make sure that the CRT bikes are not embarrassed once racing kicks off. In any event, we won't have long to wait, with the first test session for 2012 being scheduled for the 31st of January. TechIII have confirmed that Andrea Dovizioso WILL be participating in the test session. Good news.
So, 9 CRT riders and only 11 prototype bikes. Sounds to me like we're heading back to the 90's where Grand Prix grids were filled with bikes, but only a few of them were factory entries, the majority being privateers on leased or purchased bikes. But, before we decry that, remember that we look back to those days now as a golden era in Grand Prix racing. Lawson, Rainey, Schwantz, Doohan, all dominated in that era and the racing was brilliant. I expect the same to be the case. The prototype riders will clear off into the distance leaving the CRT bikes to fight over their own unofficial championship, the best of the rest. The big question is (as I have stated before), how long will sponsors continue to pour money into teams that have no earthly chance of winning, or of even being seen on TV telecasts? Back "then" money and sponsorship was plentiful with even the lowliest privateer being assured of at least some help. Costs have escalated and the GFC is biting hard in Europe, the area from which most sponsorship emanates. My tip is that we are going to see more teams looking for sponsorship in Asia and India where growth of the motorcycle market is still happening and where opportunities for exposure on the wider stage are still being sought. Mahinda, an Indian company, is already involved in 125cc/Moto3.
So, what will be the shape of the MotoGp bikes? Well, more and more it seems that manufacturers may not be planning a full 1000cc bike. Preziosi, head of Ducati's effort, suggested during the week that around 900cc seems to be the ideal to maximise the effect of the  of the 81mm bore restriction without compromising fuel consumption. Will we see a return to the rip-snorting days of the 990's with riders backing it in and power-sliding all over the place? Alas, no. Since those days electronics have advanced tremendously and we will notice little or no difference in the way the bikes perform on the track. They will still be "straight line" racers, following the path pioneered by the 250'sand the 800's.
Speaking of Ducati, Preziosi has stated in a news conference this week that the GP12 will be about a "90% new bike" It WILL have a perimeter frame as predicted but will take some time to "dial in" since the components are all so new. Rossi himself has said that he doesn't expect to contend for the championship this year but does want another 2 year contract with Ducati before retiring at the end of 2014 to pursue a career in WRC (something I predicted YEARS ago)
In Moto2 news it seems that Marc Marquez is STILL having vision problems after his late-season accident. The team is talking confidently but I'd be more than a little worried if I was them. An injury to such a sensitive area that has still not stabilised is starting to sound more than just a little worrying.
In other news, the Island Classic draws ever closer. I am so excited to be able to go to this meeting and to be able to mooch around the pits making a nuisance of myself as only I can. My Facebook benefactor, Edwin Haazer from California (though originally the Netherlands), is coming to race along with his racing mate from Reno, Nevada, Jimi McKay. It should be a hoot. The boys are coming out as guests of noted Victorian Post-Classic racer, Roger Gunn who is supplying the two Katanas that they will ride. Ed is a bit worried about going over to the "dark side" after being a dedicated Kawasaki man for so long, but his desire to race at PI is overcoming his reservations. He's even managed to tee up a ride on a sidecar while he's out here. Iain Marshall, another of my FB friends posted up this picture this morning of the bike Edwin is supposed to ride…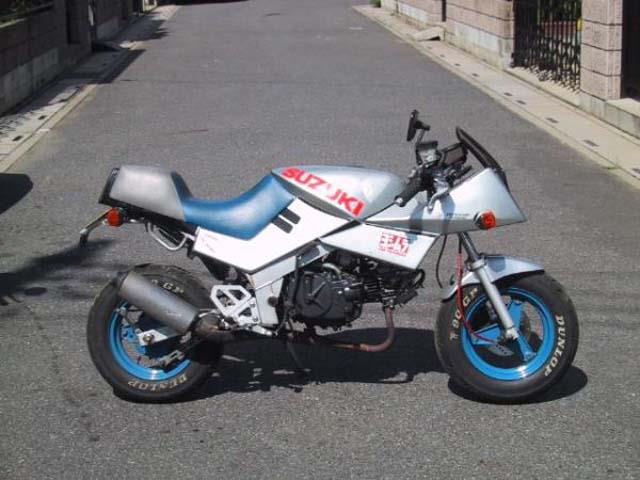 Iain explained that the team has done what they can to increase ground clearance but it might be at the expense of performance. 🙂 Love the way these guys kid around. Ed will be bringing out some Edwin Haazer commemorative T shirts to sell, so, if you want one, message me with your size and I'll see what I can do to snare you one.
That's all for today. This morning I had a little win on fleabay that I will tell you about in the next couple of days. Quite excited, actually. Have a great weekend.