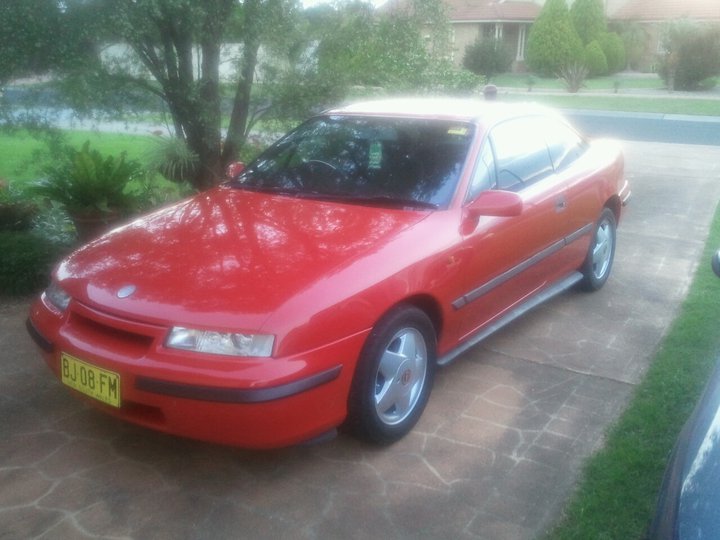 Just out fitting a new (2nd hand) seat belt support bracket to the car and it started to rain. I hate leaving jobs partly done. Will wait till this shower eases off. One of the things you learn when you own an older car (especially one that it a little "outside the box" like a Calibra is to make use of your support network. Before I even bought the car I joined the Calibra forum (www.clubcalibra.og) to see if anyone had one for sale. Amazingly (actually not really amazing) my car turned up as a new "For Sale" about 3 days after I'd joined. I negotiated with the owner, in Nerang, Qld, and bought the car sight unseen and had it brought here by transporter. I also deposited the money for the car without knowing the owner's bone fide's or anything. In fact, I pretty much disobeyed every rule that I have given to others over the years about how to buy a 2nd hand car or bike.
But, fortune favours the brave (or protects the stupid – whatever) and the car has proven to be even better than the owner said it was and I have already put several thousand k's on it despite my limitations in terms of being able to drive a lot.
So, when I, in my usual ham-fisted style broke the plastic strap that hold the seat belt so that it comes across your shoulder instead of dangling down behind the driver's seat, I immediately logged on to the forum and secured a replacement part within a couple of days at a fraction of the price of what my friendly local Holden dealer would have charged me.
In MotoGp news, it seems that Ducati may be coming around to the idea of a radical switch in frame design, team boss, Filippo Preziosi signalling overnight that "everything is on the table" and word out of Europe that Ducati have contacted a third-party frame manufacturer seeking their input into a possible aluminium twin-spar design. Indeed, some are suggesting that the work has already started and that, even if it doesn't get USED in racing, the research data that the exercise could yield will make the whole thing worthwhile.
And what is happening here?
This picture was published by gpone last night under the heading of "A two wheel drive Ducati" and got some laughs. But why ARE the mechanics putting the starting machine on the front wheel instead of the back? Is it just a gag by the mechanics? Well, not, it isn't. In fact it happens all the time, apparently. As the carbon fibre brakes on MotoGp bikes are notoriously hard to warm up, mechanics use the starting machine to spin the front wheel and then apply the front brakes, thus starting the process of feeding heat into the disks. Not nearly as entertaining as the alternative explanation, is it?
I have made no secret in past posts on the subject of over-restoration. The epitome of over-restoration, the Pebble Beach Classic, takes place this weekend. This is where the lifestyles of the rich and obnoxious coincide with cars, and people whose incomes are more than the GDP of a small African country trot out their million dollar Bugattis for everyone to admire. Personally, the idea of spending several million to restore a car so that it is better than it was when it left the factory is anathema and I hope it rains all weekend. There, is that petty enough?
However at Pebble Beach, Bonhams, the auction people, will be auctioning the very last Brough Superior to be produced. This classic 1920's classic bike was made famous by Lawrence of Arabia (who owned 7 of them in total and sometimes more than one at a time) and it was regarded as being the Rolls Royce of motorcycles in its day. Previous examples have sold for over a quarter of a mil and this one, by virtue of its provenance, is expected to top 400K. That's a lot of money for a bike that cost 720 pounds when new.