We are all very familiar with the famous John Small colour photo of Graeme Crosby doing a wheelstand up Jackie Howe Crescent at Macarthur during the first road closure in October 1978. I thought you might like to see my effort at the same meeting.
My camera gear was quite a deal more rudimentary than those of my peers but I was, and remain, happy with the results. The camera was a brand new Pentax SP1000 SLR. It was the first model and so had a screw-mount lens rather than a bayonet mount which came with the later model. It was an almost completely manual camera with TTL metering as the only concession to modernity. Focus and aperture settings were manual as was the film advance mechanism (I still can remember when Len Smith got his Canon A1 with a motor drive, sheer looxoory.)
One learned very quickly to focus on a pre-determined spot on the track, wait for the bike to pass through that spot, follow it till it filled the frame then press the shutter. As mentioned before, this technique made taking photos of the bikes when they were going top speed (down Conrod Straight at Bathurst, for example) quite a task.
I tended to mostly take panned, side-on, shots as I was photographing "to order". While there was a host of brilliant photographers working in that time, Greg McBean, Lou Martin, Rob Lewis, for example, most of them worked for established press outfits and took photos for publication. As such they rarely covered the non-championship and lower-class meetings. Paul and I made it our business to photograph every meeting we could get to and we especially concentrated on C Grade days and Club Days, the meetings where the lesser-known riders were unlikely to be noticed and "snapped" by the established photographers.
To help defray the expenses involved we would troll the pits and ask riders if they would like to have their photos taken. Since most of them were operating on a shoestring and barely even had a pit crew let alone a photographer at their disposal, they were tickled to death that someone was able to get some photos of them. The standard answer was, "That would be great, I don't have ANY pictures of myself racing."
It was here that the practice that I observe to this day, get to the meeting early, spend as much time in the pits as you can and find out the gossip, ask who wanted their photos taken, etc, began. Though I don't photograph any more, the habit has always stood me in good stead throughout my career as a commentator.
Once we had finished the meeting we would get the films processed, have a contact sheet of the prints made and then take them back to the next meeting, show the riders and take orders. Slow and cludgy, yes, but it worked. We mostly made enough money to cover fuel costs and sometimes more, especially at the big meetings like Bathurst and the Six Hour.
When I was recuperating from my accident in 2010 I published my complete collection and you would be amazed at the number of riders and members of their families who contacted me to thank me for taking photos back then. The usual comment was, "Nobody ever took photos of the "normal" riders." I would reply by saying, "Well, I did."
Now I did photograph the "big" meetings and the big stars, too, but I am always proud that I took the time to cover the "other" riders as well.
I did get a few of my photos published but that was always difficult as the established motorcycle press had their own photographers and they always wanted to use their work, and that was how it should have been anyway.
You will note that the Croz photo is in black and white. I did a LOT of B&W for a number of very good reasons. Firstly, it was way cheaper. Secondly, I had a local lab in Queanbeyan who did excellent work and returned the product very quickly. Thirdly, I always felt that I got better definition with B&W and those of you who follow Rob Lewis's work on social media will see just how much better the photos are in B&W. Fourthly, B&W could be played around with, colour negative and slide film couldn't be (at least back then it couldn't). I'd use Kodak PlusX 200ASA film that which was great under normal conditions. If the conditions became gloomy during the day, Kodak Tri-X at 400ASA was better and could be pushed to 1600ASA if really needed, though there was a trade-off in print quality.
Finally, just in passing, my time spent photographing Club and C Grade days had a benefit that only became apparent much later. I was able to take photos of riders who were at the very outset of their careers, BEFORE they became "name" riders, like this rider whose photo you have seen before and which I am very confident there is only one other person has photographs of from that day and that's my brother who was also photographing the meeting at the request of Wollongong Motorcycle Club.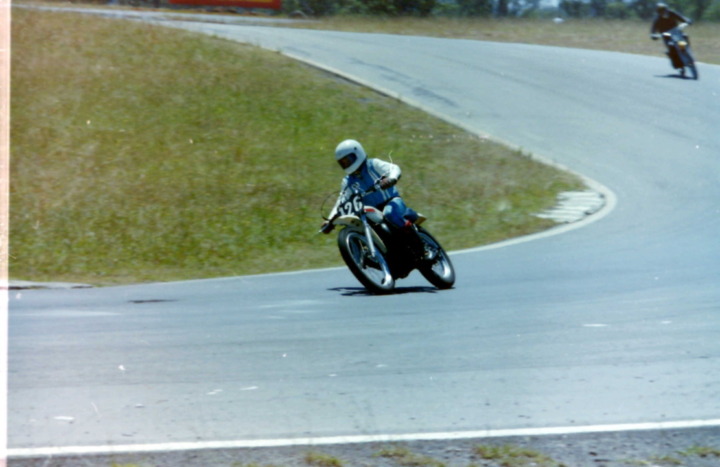 Wayne Gardner's first-ever road race meeting.
Thanks for reading.