You'd have to have been hiding under a rock to not notice the boom in "discoveries" of old bikes and cars that seems to be almost out of control. In shed and barns all over the world, but especially in the USA, valuable relics are being found, subsequently restored and sold for exorbitant sums.
Just how may of these discoveries are actually legitimate finds of vehicles that been salted away or forgotten for decades and how many of them are frauds it is impossible to say, but, suffice it to say, the industry seems to have had enough of the dodgy provenance of many of these vehicles. So much so that the reporting of these finds will usually be accompanied by the cartoon above. I always get a giggle when people start talking about barn finds and I always think of barn finds dust!! 🙂
Having said that, I am sure that some of these finds ARE legit and I do envy those who find something exceptionally valuable under a tarpaulin somewhere.
And, I am delighted to report that I have become aware of a barn find of my own. The other day, on Facebook, someone offered this bike pictured on the CBX550 Group site.
It's pretty clear that this bike doesn't NEED any barn find dust but it was offered as "Free to a good Home". How could I resist? Fortunately, I was first cab off the rank with an offer to take her away and I am now the proud owner of a second CBX550.
Conversation with the present owner revealed that it has sat in his shed for 19 years and that it languished in the shed of the previous owner since its registration lapsed in 1989. He believes that it is a spares bike rather than a restoration project and, given how fiendishly difficult it is becoming to get spares for this model, he's probably right. Produced for just a few years from 1982-1985, the model was actually very popular here in Australia and does have a cult following, especially in Europe for reasons that are not clear to me.
I'm in the process of arranging to go up to the Hunter Valley and pick it up one day next week and I'm going to have to make some more room in the shed for it.
So, what am I going to do with it? Well, as Glen suggested, it's a rolling collection of very useful and mostly unobtainable spares. For a start, it has a set of rear indicator brackets which my bike hasn't had since I first bought it in 1994. It also has a fair-conditioned seat which will look great when it is re-upholstered. The present seat looks nothing like the original seat and, while it is comfortable, it looks pretty pov.
Just having those items will make it more than worth my while doing the 600km round trip to pick it up. Apparently the original owner had a front end accident and bent the front forks. He disassembled them with a view to fixing them, bought a replacement set, but ran out of enthusiasm and the bike was pushed to one side.
Genuine low mileage. You see the little knob that adjusts the trip meter? Mine is missing and they can't be purchased. See what I mean?
I will check this frame number to get its exact age.
Last registered 1989
Spare front forks (or are these the bent ones?)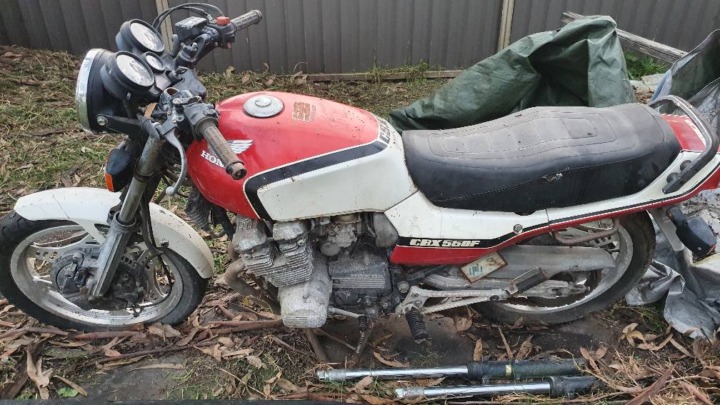 Alloy parts are, of course, in pretty poor shape but could be refinished.
That passenger grab handle is also unprocurable.
I went for a little ride today but got obstructed a little. Jamberoo Mountain is closed with no word about when it will be re-opened. Then, about quarter way up Macquarie Pass, I came upon a broken down semi-trailer and the disruption to traffic that ensues when that road gets blocked.
I wanted to explore a little and take some photos of the rich and fertile pasture land around my place,  some of the best dairying country in the country. Recent rains have greened it up and it really looks its best at the moment. I didn't really get to do everything I wanted but, hey, a ride is a ride.
Catch you next time.