Wally and Margaret, what a couple.
Where's Wally? Looking at the title of my article this morning you might be encouraged to think that I'm going to write something about that famous cartoon character with the red and white sweatshirt. But I'm not. Then again, thinking about my road racing passion, you might be tempted to think that I'm going to write something about the famous Australian superbike racer Malcolm, "Wally", Campbell. But I'm not.
In fact my article today is going to be about someone who is actually named Wally and someone you most likely will not know. Wally Cox is a Facebook friend of mine and we converse on a fairly regular basis about all sorts of things related to motorcycling and other things as well as you will find out when you continue reading the article (be advised, it's a long one).
It has often seemed to me that listening to and reading Wally's comments on Facebook that he himself would be an excellent subject for an article on my blog. So, last year after the lockdown had been lifted, I went up to Sydney and, in the comfort of one of my favourite coffee shops, Peppercorn, though it's not called that any more it's been renamed again, we sat down and Wally told me his story and what a story it is.
Let's do the biographical details first and then will get the motorcycling stuff. Wally was born in Bairnsdale in Victoria in November 1937. As a young child he was smuggled across the border from Victoria to New South Wales because there was a polio outbreak in Victoria and travel between New South Wales and Victoria had been banned, which is the reason why I use the word smuggled. I thought that the connection with the present lockdown was quite interesting.
By his own admission Wally was a born petrol head. His father was a mechanic who worked in the local agricultural machinery business and it was his job to fix not only agricultural machinery but any cars trucks etc that happened to be around that needed fixing. So Wally grew up in an atmosphere of engineering and mechanics and even as a young boy he would go to work and help out his dad. Wally is certain that that early foundation of basic mechanics was something that pointed him in the direction of where he would like to go as well and stood him in very good stead once he started to pursue that line of work himself.
At 16 Wally's Father, Wally "Senior" got his hands on his dads' new Plymouth. In his dad's workshop Wally took the muffler off the car so that it "sounded better". The old man started it up and switched it off, exclaiming "What the devils wrong with the car? Damn fool! Put it back!" You can see where this is heading can't you? Somewhere along the line here while he also told me about his dad's car, a 1922 Scripps Booth, powered by a T Model Ford with the Frontenac overhead valve conversion. Those of you who know your vintage cars will recognise that famous name.
Well his dad had had a hard life and one his main reasons for moving to New South Wales to begin with was to get away from a very poor family situation and he thoroughly enjoyed the work that he was doing in the agricultural business working on tractors and bulldozers and cars and trucks.
Soon the family moved to Fairfield in Sydney then on to Canley Vale, where they settled in and it was there that a huge change happened in Wally's life. For reasons that Wally does not know or understand his dad suddenly took off to Queensland and left Wally's mum to look after a very young family.
In Queensland his dad fell right back into mechanics and Wally recalls that his dad raced an Auburn straight eight racing car at the then very popular racing circuit at Lowood out on the black soil the plains between Brisbane and Toowoomba.
Wally's younger brother, Kerry, was also very competitive and knowing two brothers like I do, it was always going to be that the competition would mostly be to see if you could beat your brother. Both Wally and his brother were much more interested in cars and cars and car racing at this stage but of course financially this was not possible with the his mum being a single parent and Wally and his brother still being students at school.
Here he is with his brother Kerry and his MG. This would be Kerry's car as Wally had a later model TF.
He left school when he was 15 as many young men did in the day and he got himself an apprenticeship working for a motor mechanic in Auburn in Sydney on Silverwater Road; the shop is still there. Wally claims that because it was a truck and tractor dealership frequently without a qualified mechanic to 'steer' him, he was a self-taught mechanic although it's likely that a lot of what he learned he had learned from his father and from his assisting his father in his business. As an apprentice Wally was required to attend tech college and get a qualification so he went to Granville Tech in the western suburbs of Sydney near Parramatta and he found it really tough going. He loved the practical work and excelled at it but by his own admission he was awful at the bookwork side of his studies.
In 1957 Wally served his two years as a national servicemen in the army as most young men had to do at that time. At age 19 Wally bought his first motorcycle. It was a 1952 model a AJS 500 single. It was second hand and it cost Wally £65. £65 is $130 in today's money but I'm not sure what value that it actually is allowing for inflation.
After completing his apprenticeship he got a job working at Holden dealer Fair Deal car Sales at Parramatta, as a mechanic and he went there in 1959.
He then went on to join the Water Board and it was with this organization that he spent the majority of his working life. At the Water Board Wally worked as a mechanic which was hardly surprising given his trade qualification and his aptitude for this particular type of work. He worked with a friend, Fred Boyd who was an A Grade flat tracker which didn't mean a lot to Wally at that stage but came to mean a lot more to him later on. Wally's work at the Water Board involved servicing their trucks and he was very good at it and he stayed at their depot in Granville for about nine years.
As already mentioned, Wally really wanted to race cars. However struggling young man was not go to find the sort of money needed to be able to go car racing on the scale that he wanted to go and it was probably serendipitous that at this stage of proceedings he was invited to go to a dirt track meeting at Fairfield Showgrounds. There he saw Ray Curtis, a noted rider of the time doing slides around the centre track. He also saw a man called John Dodds who later on became a very famous Australian international road racer.
Well, he was fascinated with dirt track racing and he joined the Merrylands Club not long after. Wally had been member 'till his new family settled at Mulgoa. The MDMCC folded soon after and Wally joined the City of Penrith MCC and became a Life Member.
It was around 1977 that Wally was became aware of a job going up at Warragamba Dam which of course was owned by the Water Board and because Wally had bought a block of land at Mulgoa, which must've seemed like the wild outback at the time, he was very interested in seeing if he could get the job. He applied for the job and was delighted to get it. His position was as Leading Hand eventually becoming a salaried officer, then Acting Mechanical Superintendent of the Dam, so he was by and large responsible for all the mechanical work that happened in that particular facility.
He worked for 16 years at Warragamba Dam but promotion was difficult and a position was offered it to him at Wilton which must've seen even further out than the Mulgoa was. It was at a place called Fly Farm which I have no memory of at all so Wally went there and then from there he was able to pick up a transfer, still with the Water Board to the North Richmond Water Treatment works.
It was during this time that Wally began to get involved in the union movement. Wally has a keen sense of justice and a lot of what he saw happening in the Water Board and particularly at North Richmond really rankled him. Pay cuts were happening, jobs were being culled and all of this was being done under the mantra of "we're are all in this together.' As far as Wally was concerned they weren't all in it together at all, the bosses were getting all the cream and the workers were getting the dregs. I'm sure you've heard this story before. However it deeply ingrained in Wally a sense of social justice and that sense of social justice and that slightly left leaning in his political stance has progressed and continues right up in till today.
Wally got married to Margaret in 1971 and they had two children.
Wally finally finished his tenure with the Water Board in 1985 after a very long career. It was during this time that Wally had a prostate cancer scare and this probably hastened his decision to look for some work that was not quite as stressful and as much strain on his body as the heavy mechanical work that he had been doing. He took 12 months off work and looked for some other opportunities. An opportunity came up at the service station in Mulgoa where he had built on the block of land he purchased previously and where and Margaret and the family were. The service station at Mulgoa continued until such time as it, like many smaller rural service stations, was priced out of the market by the larger petrol distributors.
Wally retired and took his pension in at age 65.
Now moving onto bikes. As noted previously Wally and his brother were both fiercely competitive and with bikes being cheaper to obtain then cars and cheaper to run as well it was not really very surprising that Wally started to head towards motorcycle sport rather than his first love of car racing.
Wally first tried road racing sponsoring a modified R60 not wanting to ride it himself saying, "Tars for cars, I'll ride dirt." He bought a Royal Enfield Super Meteor 700. Wally didn't say to me whether it was a good bike or a bad bike, but an early Holden driver did an unavoidable U turn directly in front of him. The resulting crash saw Wally with three crushed vertebrae. In one of these "you wouldn't read about it" scenarios, it wasn't until 50 years later when Wally was visiting a doctor for an unrelated complaint that he was X-rayed and found out that three of his vertebrae had been crushed in that accident on the Royal Enfield many years previously.
Wally and his brother raced first at the Vineyards track which of course, like most of the rural tracks around Australia, has long since disappeared, probably covered with houses by now. However Wally's brother was probably a pretty good rider because Wally tells me that he raced as a novice on a borrowed bike at his first meeting and finished second in the senior event which would've taken some doing back then given how fast competition was in short circuit racing back then.
While Wally had decided that road racing wasn't for him he and his brother certainly attended road racing as spectators and has some great stories to tell about the races at Bathurst, Amaroo Park, Oran Park and so forth. Wally had his first race at Vineyards in 1958 and by his own admission, "He didn't have a clue." However, he was very attentive to what he saw going on around him and claims to have benefited greatly from seeing some other riders riding there by the names of Len Atlee, Jim Airey and Gordon Guasco.
In his early 20s Wally started racing his own bike at the Moorebank track which is just on the outskirts of Liverpool probably where the industrial estate is now. He claims he never won a race but he learned a lot. He continued in short circuit racing and his fortunes took an upward turn when he was able to buy the 500 BSA that had been raised by the legendary Eric Debenham.
Pressure of work and family commitments saw Wally stop racing in 1972. However he did purchase a Yamaha RT1. The bike certainly made an impression on him because later on when he decided to go racing again in 1988 he found another RT1 that he bought for $400 and he continued racing that until he recently retired from racing and sold the bike.
As a returning racer you would've thought that Wally would've settled for a fairly quiet and less spectacular type of involvement but in fact the opposite is the case. With a little more financial security behind him, he decided to lash out and buy a proper short circuit racing bike rather than continue to use the Yamaha which was, after all, just a converted dirt bike. So in 1988 Wally bought a proper slider. It had an Elstar frame with an XT 500 Yamaha engine that was pretty highly developed.
Wally had had a break from racing while his children were growing up and his family responsibilities were heavy plus the pressure of his service station business as well but he met someone at Eastern Creek Raceway and they invited him to go out to the Nepean track and have a run around. Wally brought the XT out of retirement and started racing Seniors racing which he has continued to do until, as I mentioned before, his retirement earlier on last year.
The 500 Yamaha was a great bike but the engine caused him all sorts of problems throughout the time of his tenure and it seemed to him that every time the bike was going at its best that was the time that it was most likely to break down and it usually did. From listening to Wally's description of what happened back then it seems to me that a lot of money was spent on trying to make this bike competitive that perhaps could've been spent buying something better to start with. But we all know the problem of once you're committed it's awfully hard to turn around and start again. Eventually the bugs in the Elstar were all overcome and the bike became very competitive and, in his sixty ninth year of competing, Wally won the Super Seniors event at the Penrith Clubs annual Classic Dirt Track Event at Nepean Raceway. The second rider 'home' after three rounds was 65.
Wally admits that he doesn't regret any of the difficulties, injuries, frustrations, mechanical breakdowns and all of the other deals that affect someone who decides to go racing and, given the chance, he'd do it all again. Spoken like a true enthusiast.
One of the great short-circuit events in New South Wales, indeed in Australia, is the the famous Nepean Six Hour Race where teams of riders ride around the short-circuit track for six hours to determine a winner. If you have ever seen the Australian movie, "Naturally Free", then you will have seen a considerable amount of footage of that particular event back in the early 1970s. Well, Wally's claim to fame is that he and his team won the first Nepean Six Hour in 1968 and the details of how they managed to do that is worth an article all by itself.
Wally is thoroughly enjoying his retirement and though he regrets not racing any more he does admit that as it 80+-year-old it probably was time for him to pack it in anyway. The garage is empty, the bikes are gone and Wally has some fabulous memories of short-circuit motorcycle racing in New South Wales during what was probably its greatest era. This does not mean that Wally has stopped being active. He is deeply involved in the campaign to prevent the construction of the Badgery's Creek Airport and brings with him all the passion that he developed during his days as a worker and the sense of injustice that often pervaded workplaces during those particular times. I'm not sure if  he and his friends are going to be able to prevent the construction of the new airport but the people doing so never wonder about the passion of the people who have been opposing it and Wally is one of the people who has been at the forefront of that and he's very proud of it.
When I sat down with Wally to compile the information for this article I thought it was going to be a fairly simple and straightforward affair. It wasn't. For reasons that I'm sure you understand, every step along the way involved all sorts of side stories that spring from the simple statement of the facts of his life and this interview took a great deal longer than what I expected that it would, though looking back on it, I should've realised that it would. At the end of the interview Wally apologised to me for taking up so much of my time. I wasn't worried, I was fascinated I could've listened to a lot more and I didn't think it was funny at all that he said, "You don't know me very well but if you did you would know that I could talk about myself forever!"
It was great talking to Wally I know where Wally is, he's in Mulgoa. I drive through it all the time, ride through it all the time too and every time I do I stop and think about the fascinating character that this gentleman has proven to be. I hope that between us we've done something to preserve a little bit of the oral history of motorcycling here in New South Wales and I'm sure that Wally has been if not an important part of that, at least an integral one and I wish him well in the rest of his retirement.
Wally at work on the Elstar
Early racing shot at the Moorebank track.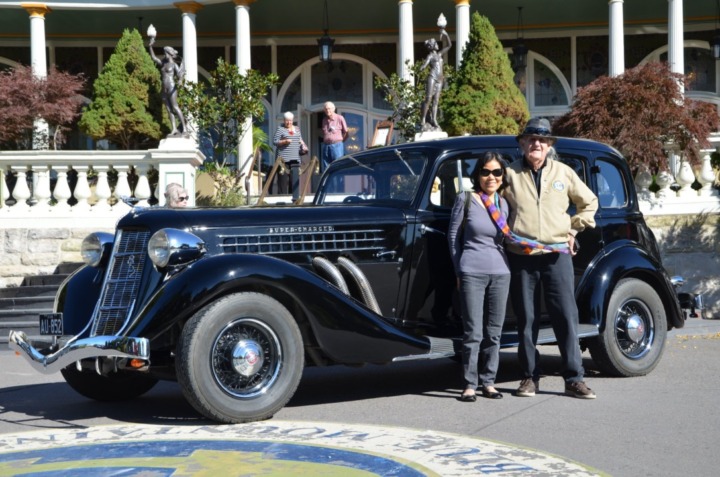 Wally's brother Kerry, owned this car, wow!
Every racer can identify with this shot.
The leader of the pack!
Retired, but not really.
Though not racing any more, Wally continues to support his sport.
Classic shot of club members together.
The Elstar kept going this day, unlike the bike in the background 🙂