With all the dodgy weather we've had so far this year, finding a suitable day to do a long ride has been a real challenge. However, the weather forecast for yesterday (Sunday 28th) seemed pretty reasonable so I thought I'd give it a bash. Now, as you know, last Sunday we drove across from Junee to Maula Bay and the drive reminded me of just how great a road the Clyde Mountain section of the King's Highway was so I figured that a Ride the Clyde Day would be a great idea.
With the run down and back plus the gallop up the mountain to the top as well, it worked out at almost exactly a 500km day so that also looked around about perfect. Now I COULD have done it by myself which is the way I LIKE to ride but I decided that it would be nice to invite some friends to share the experience so I posted up the ride on my local riders' Facebook page to see if I could get some takers.
Now those of you who run forums or riding groups will already know that this process is fraught with difficulties. No sooner has the ride been posted than someone will post up that some other group has a ride on that day/it's Aunty Rosey's birthday/the bike is in for a new tyre/ yada,yada, yada…Then there is the difficulty that a dozen people will express interest in the ride/say they are going, but, on the day, you turn up at the start point and there's just you and one other person ready to ride. So you post and hope, basically. Such was the case when I posted up a Ride the Clyde Ride on my local group. 5 people said they were coming, several others were interested but, at 0730 Sunday morning, there were 8 people there including a couple who hadn't notified their interest at all!
And what an eclectic group we were. I was there on my VFR, Margie on her FZ6, Nigel on his Ninja 1000 (getting in some much-needed seat time in preparation for his upcoming European jaunt) and Melissa on her lovely Harley. Then there was Pete on his Harley (Pete has recently moved her from North Queensland and was definitely feeling the cold), Bugsy on his CB650 Honda and Wayne and Venessa he on an FZ Fazer 1000 Yamaha and her on a gorgeous Indian.
And cold, did I mention cold? Yes, it was cold. The forecast said no rain but it did say that the east coast was about to be influenced by a polar cold front bringing strong winds and much lower temperatures. Somehow I didn't quite catch that and, after riding straight through the Autumn in my Summer jacket and gloves, I looked at the temperature at 0700, saw it was 14° and decided that it was obviously going to warm up so I'd continue the dress code.
We set out at 0800 and had a great run all the way down the coast. The cold had obviously deterred most of the early-starters and, apart from the presence of an excessive number of radar cars, we made good time. But it didn't warm up; in fact it cooled down and, through all the little coastal towns where it is always seems to be warm, the temperature fluctuated between 12 and 14 and never rose above.
About 40ks out of Batemans Bay, Melissa suddenly slowed and pulled to the side of the road. At that stage Nigel was ride leader and I was taking a turn at TEC which turned out to be a good thing. The bike was back-firing badly and the instrument panel was zeroing and then coming back again. It sounded electrical but not fixable on the road side so Melissa wisely decided to head home while the bike was running sort-of OK and get it looked at when she could. I got a message from her later to say that she had gotten home safely but it was disappointing that she missed the ride.
I caught up with the gang at the fuel stop in the Bay and we headed up the mountain. Apart from some roadworks around the new bridge at Nelligen, the road was practically deserted and we absolutely smashed the 50ks or so to the top of the mountain where the road levelled off on the run into Braidwood. Oncoming motorists warned us of two police presences but that didn't worry us as we were on an "observe the speed limit" ride so it didn't worry us.
What a joy the Clyde is. Despite the rain it has taken, the road surface was pretty good, the corners are predictable and the constant elevation changes kept you on your game all the time. I had forgotten just how good it is.
Along the flat, we found a good spot, turned around and headed back. Again, minimal traffic until we started heading down the "serious" part of the mountain. Sadly, about half way down we encountered a numpty in a BMW X4 who was obviously terrified of corners and she held us up till the road allowed us to get by. A quick scamper along the riverside and it was looking good to get to the Steam Packet Hotel at Nelligen but, wouldn't you know it? Another brand new Mercedes being driven by someone who didn't know how to drive and lots of double unbroken lines. Arrgh.
Sitting in the sunshine at the SPH was great, especially since the ambient at the top of the mountain had been a chilly 10°. Just as we arrived a local gentleman was getting ready to leave on a gorgeous MHR Ducati. A genuine two owner bike that has only ever been ridden by three people since new.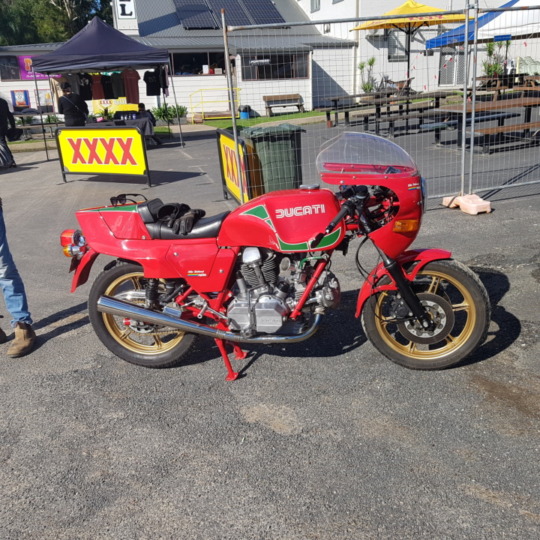 We didn't hurry lunch, it was still only just a whisker past mid-day and everyone was enjoying the Autumn sun.
A quick "splash and dash" back at the Ampol and we headed north and for home. I already knew that navigating the coastal towns on a Sunday afternoon was going to be slow going and so it was. But we had made such good time that it didn't really matter and there were still opportunities to have a blast as well.
I pulled in at home at around 1600, it had, indeed, been a slow run home. But what a great day. I was frozen for most of the day and even having the temperature get up to about 17 for most of the run home didn't seem to make any difference; wind chill, I guess.
It's 10° outside as I type this and it's nearly midday, it's also just started to rain so the wisdom of doing the ride yesterday is confirmed. It was a great ride, terrific company and brilliant roads, what more can you ask? A big thank you to all the participants.
Can't wait till next time.