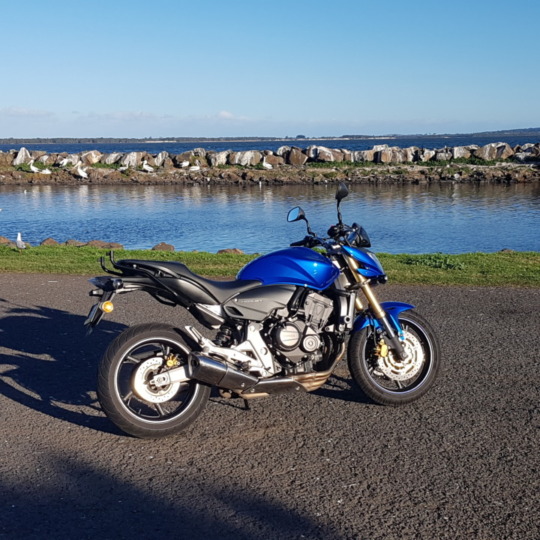 Well, after being on the market for quite a while, the Hornet went of to a new home this morning. Yes, that's right, this morning. Allow me to explain.
I was starting to get a bit concerned; lots of enquiries but all from "tyre-kickers" as we used to call them in the trade. But, on Monday, I had a reply to the ad from a guy who seemed keen and yesterday he drove down from Sydney in the pouring rain to look at it. He seemed very impressed and said he'd have to talk to his girlfriend about it (where have I heard THAT before?)
Anyway, it seems that is exactly what he did because, last night, I received a phone call from him saying he wanted to buy and that he'd be down today to pick it up. We agreed on a price and I advised him to probably reconsider coming down today as we are in the middle of extraordinarily wet weather with over 200mm of rain predicted for just today! He was planning to ride the bike back to Sydney and he had no protective gear at all. Not a good recipe.
Imagine my shock when I received a message from him this morning saying he and his girl (a charming young lady) were on their way. In the course of time they arrived in the middle of a howling rainstorm and we adjourned inside to take care of the paper work. The rain was showing no sign of easing up but he was ready to go, his only protective gear being his helmet.
I seriously couldn't send him out like that so I loaned him my one-piece rain suit and a pair of my mid-season gloves, not entirely water-proof but better that nothing. He was very grateful and promised to mail them back to me as soon as he could. By my reckoning, he and his girl should be home in Sydney by now provided everything went well, I sure hope it has.
Everson, the buyer's name, runs his own window-tinting business called "Darkness Window Tinting" His mobile # is 0416 136 558 if you are in the market for window tinting. I hope he enjoys the bike and I hope he goes right out and buys some good quality riding gear so that he can take full advantage of the experience.
One door closes and another one opens, so they say. But, as my brother often says, apart from that, it's a pretty good car. I'm down to just three bikes now, two runners and a show bike. I reckon I'm still lucky. Luckier than the poor people in Queensland and far northern NSW who are battling huge floods at the moment, anyway.
Catch you tomorrow.