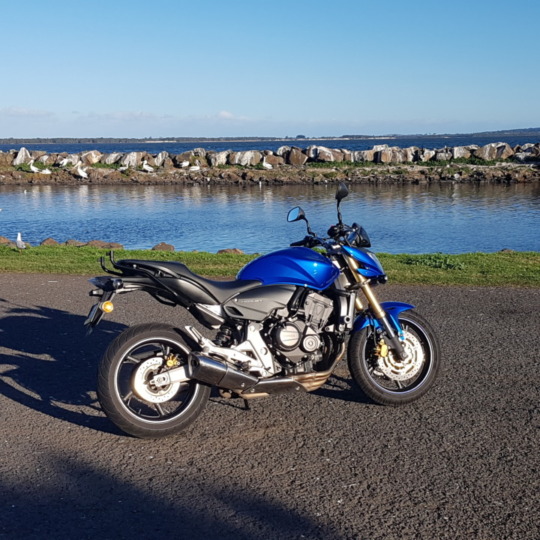 In motorcycling terms, standing still is not an option, unless you have your feet on the ground or the bike is on its stand. I know there are people who specialise in riding bikes while they are standing still, they are call observed trials riders and they truly are the geniuses of the motorcycling world. However, for most of us mere mortals, standing still is NOT an option.
I pause to note that, on a philosophical level, standing still is also not really an option. Unless one is progressing, moving forward, standing still leads to stagnancy and a gradual almost imperceptible slide backwards.
And it is in this context that I bring you up to date with the Hornet's "failure to proceed" the other day when I was out riding. It was my opinion and also the opinion of my motorcycle pick-up guru, Mark Hobbs, that my problem was fuel-related. Discussions with my mechanic who came to pick the bike up on Monday morning also confirmed the suspicion. As usual I left the bike in his care with the reminder that I wasn't in a hurry and that I'd hear from him when he had some news.
Well, yesterday, the news arrived. The fuel tank, filter and fuel lines were occluded with a mixture of rust, water and other impurities. It's a wonder it went for as long as it did. The system has been cleaned and, once the rubber washer for the fuel pump arrives, I'll be back on the road.
So, what does standing still have to do with all of this? Plenty. In fact it is the root cause of my problem. The Hornet is a 2008 model so it is 13 years old. It has just 34000 kms on the clock which means that, on average, it has been ridden for just 2615 kms per year. That is assuming that it has been ridden regularly which, plainly, it has not. In fact, it is likely that, for the vast part of its life, the bike has sat still and unridden for extended periods of time and this is the problem.
My Northern Hemisphere readers who have to store their bikes through the harsh northern Winters will be aware of this issue. The conventional wisdom is that it is best to fill the fuel tank to the brim before storage as the metal inside the tank will not be subject to the effects of condensation inside the tank and therefore rust. Either that, or one drains the tank completely, dries it as much as possible and leaves it in a warm place, with the fuel cap open to avoid the same issue. Since I have never had to do this I am prepared to be corrected on the proper procedure though many of my social media friends seem to rely one one or the other of these methods.
It is apparent that no attempt was made by the PO to avoid the issue of rust inside the tank and the "failure to proceed" seems to have been the inevitable result.
Thankfully the fix is relatively easy, though time-consuming, and the problem has not resulted in any long-term damage.
On the subject of old bikes with minimal mileage, I am constantly amazed at the "barn finds" that pop on social media where bikes have been stored for decades without being ridden. I mean, why buy a bike if you don't intend to ride it? Answers on a postcard, please.
Anyway, I'm standing still here and it's already a lovely Spring day out there so I'm taking the VFR for a bimble. Enjoy your day.