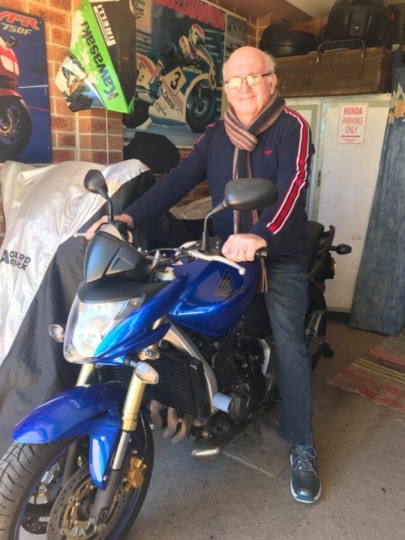 I started riding in 1974 and, for the majority of that time I have ridden middleweight bikes. Apart from a brief flirtation with a 250 two stroke and a later one with a huge GS 850 Suzuki shaft drive, the rest of my bikes have all been around 500 to 600 cc. I'm not quite sure why this is so it just seem to happen naturally. I guess it might have something to do with the fact that my first bike was a Honda 350/4 and I just found I was comfortable with the bike around about that size.
A lot of that time I also owned Honda CBX 550s of various sorts and oddly enough I own another one now. But it was in 2002 that I decided that it might be nice to have a bike with more power and something a little more sophisticated given that the bike that I was riding at that stage was 20 years old.
That was when my good mate Rick Miller told me that one of his customers had a Honda VFR 750 that he had regularly serviced for a long long time and that the bike might be on the market. Rick arranged a test ride and the bike was certainly a revelation. It didn't take very long after that before money was exchanged for goods and I left my middleweight riding behind for quite a while.
Fast forward to more recent times and I am looking back now on a long period, nearly 20 years in fact, of riding VFRs of various sorts. I think the count is up to 7 or eight at this stage of proceedings. Unfortunately some of them have come to a sticky end but that's the risk that you run when you ride a bike on the road.
Time and tide waits for no man they say and it certainly doesn't seem to have waited too long for me. I've just celebrated my 72nd birthday and, over the last couple of years, I have started to think that maybe muscling the VFR around is starting to get just a little bit difficult. I have no complaints whatsoever with the bike and its dynamics at all and the intoxicating sound of the gear driven cams is something that no one who has ridden a VFR will stop telling you about.
However, slow maneuvering of the VFR is something that I have been starting to find more and more difficult. This has culminated with my latest whoopsie, a standing still accident where I fell over at a traffic light and fractured my left shoulder. Apart from the pain and all the other associated folderol, I'm also faced with the prospect of a longer than usual recovery from the injury mostly because of my age and also because of the fact that it is apparently an injury that does take a long time to heal anyway.
So the VFR is sitting in the shed at the moment lonely and unloved and with no prospect of being ridden for a little while yet. During this period of convalescence the prospect of purchasing a lighter bike, one that is more easy to manoeuvre, has been playing on my mind quite a lot. Several other happenings have also encouraged this line of thought. One was that one of my good friends recently sold his Yamaha 1300 and bought a Yamaha 600 instead and he's finding the bike to be just as enjoyable to ride and a great deal more enjoyable to manoeuvre than what the big lump was before. I can identify with this and this is one of the reasons that has got me thinking more and more about should I downsize?
So if I'm going to downsize what would you think I should get? The question is purely rhetorical because in actual fact I have already bought another bike but I was wondering what your thoughts might be on what I should've done. My friend who sold the 1300 and bought a 600 stuck with his favourite marque and bought another Yamaha. No problems with that except for the fact that the size of bike that he wanted meant that he was limited to buying a LAMS bike rather than a de-restricted bike. Now this doesn't really worry him because he's not a backstreet screamer and he certainly isn't the sort of person who comes home with scratch marks on the elbows of his jacket from a spirited ride up Macquarie Pass. I fully respect his choice and he just loves the bike. Now that he has made a few modifications to it that really needed to be made, specifically the replacement of the existing seat with one that was actually comfortable he is tickled to death with it.
So I started looking around Bikesales and all the other vendors of motorcycles and I found out that it is almost impossible now to buy an unrestricted motorcycle under 1000 ccs. I do acknowledge that I'm getting old but I just can't look at the prospect of a restricted bike even at this stage of my riding career. The other issue was that Yamaha make a fine range of bikes of the middle weight capacity but almost without exception they are naked bikes and more suited to hooligan riders than riders like me.
The other issue is that I'd really like to buy another Honda. This is just straight brand loyalty that has existed right back from the time of my 350/4 in 1974. So I started looking at what Honda had to offer. Honda make a really nice 650, a four-cylinder with the fairing and just about the right capacity for the sort of riding that I want to do. I had a good look at that but there is an issue that disqualified it and that is the fact that it is almost the same weight as what my VFR is. There hardly seems to be any point downsizing for a lighter bike and buying something which only has the real advantage of being newer.
Needless to say I have been discussing this at length with my brother who has been thinking along the same lines for quite some time also and we have discussed the matter at length. Unlike my brother I do tend to be a little more cautious in my purchases and take a little bit more time to make up my mind. Paul is a little more impetuous and also was a little further along the way in terms of his thinking because of his previous bike history. After a long break from riding, Paul came back to riding in the early thousands and bought a lovely little Honda CB 600 Hornet. I'm not exactly sure but I think he kept that bike for about six years. He wrestled with the dreadful 16 inch front wheel for the whole of that time and eventually, becoming tired of it, decided to get a bigger bike.
This is really an aside but it's funny anyway. All the time he was looking for a new bike he says that his mind was thinking all the time, "Please, not a VFR, please not a VFR.". So guess what he bought,? He bought a VFR, a 750 model which a few years later he replaced with his current 800 model. As I said Paul's search was quite a bit ahead of mine and he, after diligent searching, found that there was a Honda model that suited his brief. It was a very short lived 600 cc four-cylinder model that was only sold in Australia for one calendar year, 2007 to 2008. It was basically an updated version of the Hornet that he had had before. However, of course it came with all the modern fruit. And it seemed  to fit exactly what he wanted. It was about 30 kg lighter than the VFR, and the engine produced around 100 hp which is pretty much exactly what he had been used to with the Honda.
Not wanting grass to grow on his feet he went looking for one and found one on the excellent bike sales site. It was low mileage, had a few extra features and had been extremely well looked after. The bike was in Melbourne so Paul got a friend there to go around and have a look at it and his friend gave it the thumbs up. So he paid the money, organised the freight up from Melbourne and he brought it round to my place the other day and I must confess is a very very nice little jigger..
Now those of you who know me well will know where this is all heading. With my present shoulder injury which is healing very very slowly unfortunately, I have not yet been able to ride at all. However I had a sit on Paul's bike and it seemed to be very very nice. The seat is comfortable, the ergonomics are good, I can put both feet on the ground when it's standing still, and the added bonus is that it looks pretty tricky as well. What should I do?
I jumped on BikeSales and had a look and believe me they are very, very hard to find. Apparently they didn't sell well at all here in Australia although they are somewhat of a cult bike in both Britain and in Europe for reasons that escape me. But I kept searching and I came up with a bike in Brisbane, actually on the Gold Coast, that fitted the bill beautifully. It had 33,000 km on the clock and looked, from the photos, to have been very well looked after. Tapping into the social media network of motorcycle people who I am proud to call my friends, I asked if anybody could go and have a look at it for me since the Gold Coast is a fair way away and one of my mates went over and had a good look at the bike.
His report was that it's a good one and that if he had the money he'd buy it himself. That seemed like a pretty good recommendation to me so money exchanged hands and the bike is sitting in my garage, having been brought down from Qld. Now I know I'm going to cop some stick for this but I've got broad shoulders so don't worry, The bike is blue, same colour as Paul's and, apart from a few minor differences, they will look essentially the same when parked side-by-side. Lest  I be accused of being a copycat, this is only the second time in our combined riding careers where we have both owned a bike that is the same (we are twins as you know).
I'm anxiously awaiting the transfer of registration so that I can get on and have a gallop. At this stage I am keeping the VFR in case the Hornet doesn't live up to expectations but, if it does, the VFR will be going on the market and I will be downsizing.