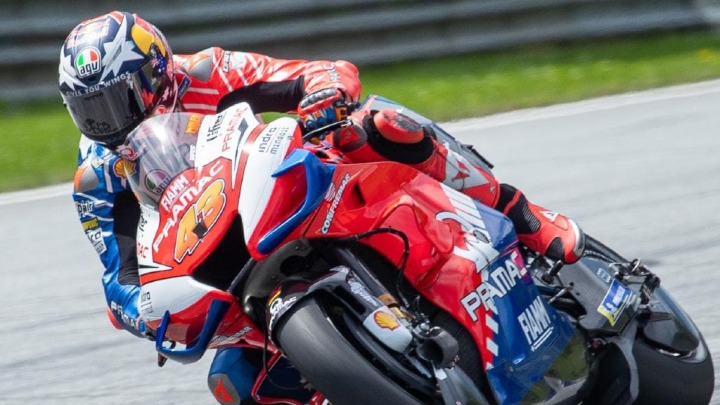 Well, it's the start of May, nearly half the year has gone and we have had one MotoGp meeting where the MotoGp bikes didn't actually race and one WSBK meeting where the they did race. And the prospect of any further racing this season and thus the completion of a viable championship for either category is getting dimmer by the moment. I'm sure I don't need to tell you what the current state of play is with the virus; I couldn't anyway since it is different everywhere you go. Thankfully here in Australia our authorities got onto it early and we seem to have been spared the worst of it compared to some other countries where the infection rate and the death tolls have been tragically high.
The chance of a vaccine is a million miles away (well, at least 18 months IF they can make one that works) and there appears to be very little sign of the varying degrees of restrictions in place all over the world being lifted. AND, even if they were to be, a partial lifting (which is all that we seriously can expect right now) is still not going to get us closer to racing. DORNA has been changing the calendar every day just about with the last one being discarded pretty much as soon as it is published. Since that organisation controls both of the top formulae what is sauce for the goose is going to be sauce for the gander. I Seriously would not want to be anyone in a position of authority in any of these organisations at the moment because their collective hands are about as tied as it is possible for them to be.
Plan F, (I think that's where we are up to) is for MotoGp to resume in July with meetings being held at closed circuits and with teams being required to run their outfits with a bare bones staff. To try and alleviate the travel problems with people flying, crossing borders, local quarantine rules, yada yada, the idea is being floated of running several races at the same venue on successive weekends. Which tracks will be chosen hasn't been mentioned at this stage but you can bet that, whichever ones ARE chosen (assuming it happens) some teams are going to complain that the chosen tracks don't suit their bike and unfairly favours their rival;s' bikes.  Nothing has been said so far (that I have heard anyway) as to how it is going to be organised in terms of track staff, catering, marshals, medical staff and the myriad of other people who are required in order to be able to run a meeting (even with NO spectators). And, even if you COULD get that organised, how are you going to run a meeting and apply strict social distancing between all these people?
But the main sticking point is still going to be international travel. It's at a standstill at the moment and even the most optimistic person would really be stretching to believe that the rules will be relaxed enough for it to resume any time soon. AND, even if it DID, the problem of 14 day quarantines for arriving travellers would make organising the meetings a logistical nightmare. And these same team members who have left Italy, for example, to travel to Spain for a meeting, endured 14 days in lockdown in Madrid, will then have to endure ANOTHER 14 days when they return home. I can see why DORNA is thinking the "do all the meetings at the one venue" idea comes from but I just don't think it's workable.
There is no minimum number of races required in order for a season to crown a champion, but plainly nobody is going to be happy to see a new MotoGp title  decided on the basis of six races.
And, in the mean time, teams, sponsors and organisers are hemorrhaging money at an alarming rate.
Want my 10c worth? Abandon the idea of running a season at all, freeze the teams and associated arrangements at the level they are right now and try to do a bumper season in 2021. Hardly what we, the fans, would want but there is going to come a time, and I believe it will be very soon, that DORNA is going to have to grasp the nettle and make a decision.