Well I did my first long ride on Goldie yesterday. My club, CEMCC, has a monthly Wednesday ride named in honour of a former member and it is always well attended, at least that's what I have been told. So I decided I'd join in and see how Goldie went.
As soon as I got going the voltmeter told me that things were not right with the charging system. With the lights off it was showing 16.8v, way too much. Even turning the lights on didn't drop it much. So it is clear that, while the alternator is definitely charging more than adequately, the voltage regulator is simply not regulating at all. So I alternated between lights on and lights off depending on what the voltmeter was showing.
The meet point was up on Mt Keira Road. I toddled in there expecting that the eventual destination would be the bakery at Picton. I was a bit concerned at the distance involved but I figured that there would be people around to help if things didn't go right. There was a huge roll-up of bikes and riders, around 25 at the start point and we picked up some more at our first stop. Wow.  A very eclectic mixture of bikes including many historic platers as well as a sprinkling of modern bikes.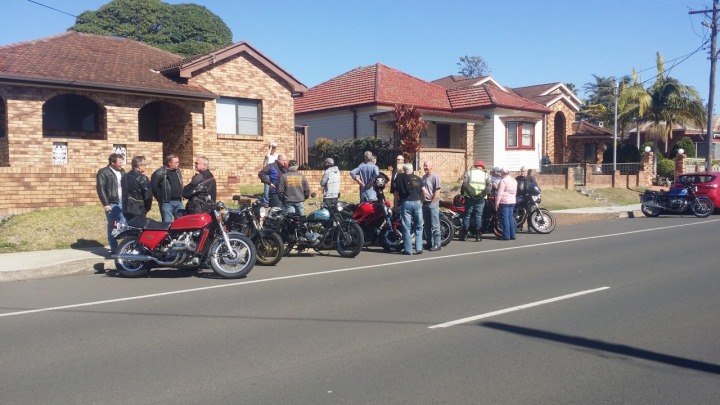 When we went to get going, Goldie didn't want to start. However, I punched the button a few more times and suddenly she sprang into life as if there was nothing wrong. Another issue that needs addressing. Before that, however, the ride leader announced that the ride destination was going to be Greenwell Point, south of Nowra. Not quite Picton, not even close, actually. So we set out, stopping at the hotel at Albion Park to pick up a few more starters, including a guy on an original, unrestored and unwashed 1970's Norton 🙂
The route was one which we regularly ride on my local forum rides so I knew it well. I also knew that it was going to be quite a test of Goldie and I was a bit apprehensive. From Albion Park we rode out to Jamberoo, then right up to the Saddleback Mountain road, quite a steep climb, The run down the mountain on the other side of the lookout is very steep and I was a little concerned that the front brake pads might still not be bedded in enough but the brakes worked OK, albeit with copious amounts of effort to slow the big beastie down; a more adequate master cylinder will be required in the near future.
From the bottom of the mountain we turned onto the highway till the Gerringong turnoff where we peeled off and took the back road into Nowra. Once across the river on the north of town we cut east and followed the little farming roads till we emerged onto the road to Greenwell Point. It's only 4 kms from the turn-off and I was very glad to get to our destination. There are two excellent fish and chip shops at the Point but I couldn't help but notice that many of the "regulars" brought their own lunch instead of buying, something that I will do in future.
I have been concerned that, at idle, the motor makes a distinct rattling sound which evens out to the usual smoothness of the flat four engine once we are on the move. Research last night on the GW sites indicates that this is an issue related to the carbs requiring balancing and cleaning. Since neither of these have been done yet, then that is something that is also on the agenda. Hopefully that will also give me a performance gain because the engine just doesn't seem as powerful as what a 1000cc engine should be, especially in a roll-on situation at around 100km/h.
After a pleasant lunch I headed off, deciding to go straight home up the highway rather than endure the bone-jarring back roads through Terara. As noted previously, the neutral light is on all the time so it is a little difficult to know when you are in 1st gear. This caught me out at a traffic light right in the middle of the Nowra by-pass when the bike stalled and didn't want to start again. Thankfully I found neutral and, after a few stabs of the starter button, she sprang into life and we got going again.
I cut out off the highway (after finding that my new tyres are now scrubbed-in enough to enjoy the Kiama bends ( 🙂 ) north of Kiama and came home the usual way through Jamberoo. I had a pretty good run and again, contributed a little more to getting the "new" off the tyres. It's quite surprising, actually, how easy it is to lean the thing over at speed and, while it's no sports bike, it is certainly competent and enjoyable in the bends.
I arrived home safely after doing about a 200km loop without major dramas. Yes, there are some issues that need addressing but nothing major and all relatively easy jobs. It was certainly fun riding with a group of older bikes (and riders) and it seems that I am the only member of the CEMCC local chapter that has a Gold Wing, so that's pretty cool too.
I didn't connect the trickle charger when I got home just to see how the battery is this morning but the voltmeter is showing 12.8v so hopefully I haven't damaged it by over-charging it yesterday.
So, my first big ride was a reasonable success. The boys liked the bike and several remarked that this is how a restoration SHOULD be done. Very gratifying.
I conclude by adding my best wishes to a mate who was on an outback tour and had his VFR self-immolate out near Bourke somewhere. Fortunately he was able to remove his tank bag and his panniers before the flames took hold but the bike is toast and his outback tour has been ruined. That sort of thing shouldn't happen to anybody. All the best, Nathan.