On Tuesday Australia lost one of its favourite road racing sons. Unlike many who raced through the era where death was a constant feature of the scene, Jack Ahearn survived the troublesome times, retired to the north coast of NSW and lived out his days in leisure and contentment, finally succumbing to illness at the ripe old age of 92. I'm not going to present a detailed biography, I shall leave it to others more knowledgeable and whose grasp of the era is far better than mine. But, in the twilight of his racing career, I did get to know Jack and can attest that all the wonderful things that people are saying about him are true.
Jack's crowning achievement was finishing 2nd in the 500cc World Championship in 1964, riding his own self-prepared Manx Norton against the might of the MV Agusta factory riders and beating them more times than they wanted to remember. Jack always said that he went road racing so that he didn't have to go to work each day and, each year, he would set off for England, buy a new Norton, prepare it with all the bits that he could afford and chase the championship all over Europe with stopovers along the way to non-championship races when his schedule allowed. With start money paid at a pretty respectable rate, prize money when you placed well and assistance from the trade with spares, accessories and the necessaries of racing, Jack parlayed his avoidance of menial day-to-day employment into an enjoyable career.
By the mid-70's Jack was already in his 50's and thinking about retirement. Back in Australia he turned his attention to encouraging the career of another up-and-coming road racer in whom he could see a lot of potential. Ron Boulden was young (very) and with high ambitions. His mother and team manager, Moyna, had good connections and Jack came on board as Ron's tutor and mentor. In return for his invaluable assistance, Moyna ran the bike in Jack's livery, called the team Jack Ahearn Racing and the young kid set out making waves.
Ron's leathers were made to match those of Jack and he quickly managed to register Jack's old racing number #59 which he kept throughout his career.
I believe that this is Jack warming up the Maxton in the pits at Bathurst in 1977 (I am prepared to be corrected, however). And Jack was more than just a figurehead. At a private practice day at Oran Park, very early in his career (it must have been early 1977 because Ron was riding his new TZ250 and it hadn't yet been painted in team colours) we saw first-hand just how hands-on Jack's approach was.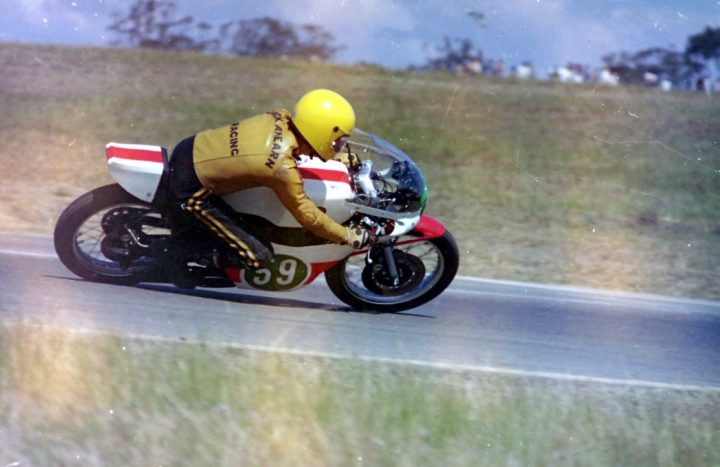 (Moyna used to call Ron "old straight arms" )
After several runs, Ron came back to the pits frustrated that the bike just didn't seem right. The bike was brand new; though "only" a 250, the "D" series engine was probably nearly as powerful as his old "C" series 350 motor AND this was his first run on a bike with the new cantilever rear suspension. Jack listened patiently and motioned for Ron to hop off the bike. He climbed on and headed out onto the track and did some laps himself. The stopwatch told the story. He was lapping markedly faster than Ron on a totally unfamiliar bike! When he returned to the pits Ron was both chagrined and intrigued to know what the difference had been.
In just a couple of sentences Jack explained to Ron the concept of "trail braking", using the rear brake to settle the bike in the corners and get it out of the corner quicker. It was obviously a revelation for the young kid who couldn't wait to get on the bike and try it out.  After 5 laps he came back to the pits, beaming. Suddenly everything felt right. And the stopwatch again told the story. Each of Ron's laps had been more than a second faster than his previous ones had been.
There is no doubt in my mind that those sessions with Jack early in Ron's career prepared him for his later successes. It takes two, one to teach and one to listen and the combination worked so well.
Jack continued racing, right up to 1979 but, at that tragic Bathurst meeting, Jack's best mate, Ron Toombs, was killed in the 350 race and Jack packed up, vowing never to return to the mountain. He never did.
Jack lived in a different era, where you did what had to be done for yourself. He never had a mechanic, he prepared and maintained his bikes by himself. Even when others offered help he politely refused, reasoning that, if he was to go out and risk his life on a bike, he wanted to know exactly what had been done with it. He eschewed the addition of experimental "hot bits" preferring to keep his bikes close to standard, sacrificing some speed for large amounts of reliability.
Jack's funeral is next Tuesday, 18th April, in his adopted home town of Lismore on the NSW north coast. It will be an all-star affair, you may be sure. And so it should be. Jack Ahearn was Australian road racing royalty and he will receive a right royal send-off. RIP Jack Ahearn.