It's Tuesday morning, early, and I can't sleep again. Why? Because I'm still buzzing after a surreal weekend at the Barry Sheene Festival of Speed (hereinafter known by its acronym, BSFoS).
It started on Tuesday (I know, bear with me) when Dave Quinn took the Shadowfax Kawasaki to Wakefield Park, near Goulburn for a shake-down run. Dave got about 20 minutes on the track in one stint before a flat rear tyre brought things to a conclusion. In that time however, he was able to confirm that everything was pretty much spot-on. yes, the rear shocks were a bit soft and yes, the ride height was a bit low (ground the exhaust collector a couple of times) but the bike was strong, handles well and exhibited no vices at all, certainly nothing that would have required even small adjustments.
Friday morning I headed up to the track for practice and qualifying day. This would be my chance to see the riders and bikes and hopefully score a couple of interviews before the weekend of racing began proper on Saturday and my attentions would be required to be fully devoted to the Shadowfax. I got a beaut 15 minute interview with Graeme Crosby, (after whom my wife and I named our son in 1978) and got some photos as well.
On Saturday, while heading up the Hume Highway, I got a call on the mobile. I looked at the number and saw that it was an international call. That could only mean one thing. Jim Race, from Motopodcast.com. I pulled over and took the call. "Phil," Jim said, "How would you like to co-host the programme this week?" PARDON???? "When", I asked. Jim explained that the show was supposed to have been done on Wednesday but that he had gotten busy and was struggling to get it done right now. I explained that I was on the way to Eastern Creek and would be an hour or so before I got there and could talk on the phone for more than a couple of minutes. "That's OK, mate," was Jim's reply, "I'll call you in an hour!"
So, not long after I'd gotten to the track, the phone rang again and Jim was on the line. I rushed upstairs to the corporate suites above the pits and found a quiet spot where we recorded this week's episode over an international phone link. Ah, the wonders of technology.
I then went searching for my bike which I knew should have arrived at the track that morning. Down to the PCRA tent, nope, not there. I went back to the Canberra pit garage where Dave and the rest of the guys should have been and they were there. "Where's the bike?" I asked. "Over there," Dave replied. Sure enough, under the stairs, covered by a couple of sheets, was the bike.
Now I need to explain that the excellent Dave Quinn goes by several names. As a devoted fan of the Mad Max series of films, his nickname on most of the online forums he inhabits is "Gosling1" This is usually shortened to "Gos" when people talk to him or about him in person. Since that name was taken when he signed up to Facebook, he chose another Mad Max name, so on that site he is called Bubba Zanetti. Consequently, he is also often referred to as BZ. I mention this because I may, in the process of telling the story of the weekend, fall into the habit of using one, or other, of those names.
Gos was frantically polishing. As soon as he was finished, I applied a Canberra Road Racing sticker (newly manufactured from the original pattern, thank you Alan Beavan at New Eagle Signs) to the tailpiece and we wheeled the bike down to the PCRA tent where we covered it with a bike cover in preparation for an unveiling.
Very soon my brother, Paul, who was coming up to the track to help, arrived and, shortly after, the bike's original creator, Kent Miklenda, arrived. Kent brought Benny Evans, another member of the original build team, with him and so we unveiled the bike and let people admire.
It was a sensation. People came from everywhere to look and read the informative sign that we had created for the occasion.
For Kent it was an especially emotional experience. You could see that he was really moved by the occasion as he saw his creation had been brought back to life. His camera recorded what must have been a thousand or so images and I'll reproduce a few of these below. Everyone got to sit on the bike and cameras were clicking all over the place as the historic event was immortalised on all sorts of digital media.
Kent trying out the bike for size. Still a good fit.
The bike ten became the centre of attention for the rest of the day. It was constantly surrounded by people admiring, taking photos, asking questions and reading the sign. All sorts of luminaries came and checked it out, too.
Graeme Crosby and Malcolm Campbell.
At lunch time the organisers had scheduled some demonstration laps by the Croz on the ex-Jeremy Burgess Suzuki RG500 MkI. So I figured it wouldn't do any harm if I asked if our bike could go out too. Clerk of Course, Tim Sanford OK'd it and we were in. After getting the bike ready in the pits, Dave took it out for 6 laps around Eastern Creek.
This Kent Miklenda photo of the bike on warmers in the pit bay pretty much sums up the meeting. Awesome atmosphere here.
Just before heading out, Dave was lined up in the dummy grid with Croz and an alert photographer took a series of which this is representative. As Dave said, "This one's going straight to the pool room."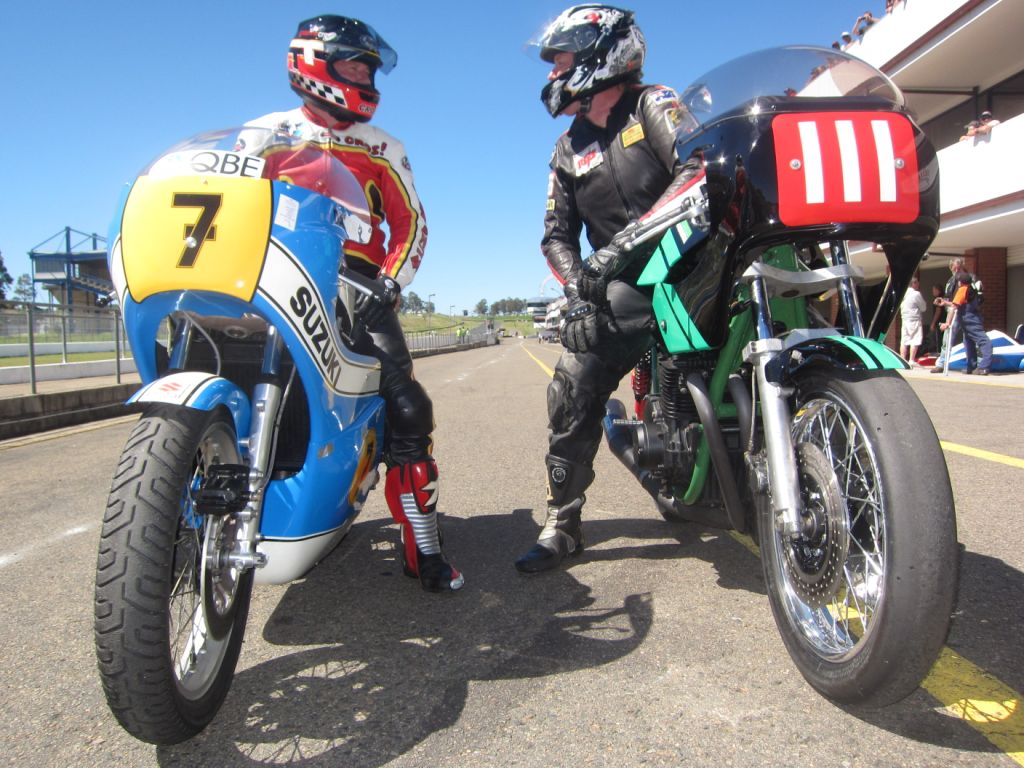 Once out on track, the gap between Croz and Dave widened, of course, but the spectacle was recorded by hundreds of cameras and again, Kent Miklenda probably summed it up best with this wonderful photo.
When Dave returned to the pits and I got back from commentary where I had been talking to the announcers about the bike, I asked him what it was like. His reply was SO typical. "Hey, I finished 2nd to Graeme Crosby, AND I won my class." Classic. I told Croz about it and he said, "Yeah, the Gos and Croz show." 🙂
Late on Saturday afternoon, Dave said, "Hey, you know what I reckon we should do? We should enter the bike in the Show and Shine tomorrow." I wasn't so sure given the "rough and ready" appearance of some of the running gear, but he said, "Come on, mate, it will be fun." so I agreed.
Come Sunday morning, here was the proto, lined up with about 60 immaculate bikes of all shapes and sizes. To give you an idea of what we were up against, check out this album of our competitors.
Sunday Show and Shine pictures.
Again, the bike was a magnet for peoples' attention. Everyone stopped and read the sign, famous (and not so famous) people stopped and asked questions and take photos and even multiple Australian champion, the legendary Robbie Phillis, stopped by and posed for some happy snaps.
So, to finish the story, at the end of the day, after over 700 votes had been counted, our bike won TWO trophies, Best Japanese Bike pre-1982 and Best Road Racing Bike pre-1982. To say that I was flabbergasted is the understatement of the year.
And, to provide a thoroughly over-the-top finale, I announced that Monday was my 63rd birthday. What a birthday present, what a birthday weekend. I seriously doubt that it could get any better than this.